By Guy Leonard, County Times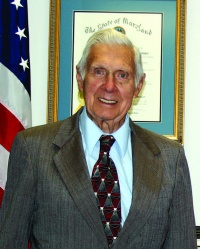 James Manning McKay passed away early Tuesday morning at the age of 89. He is the founder of McKay's Food and Drug, as well as The County Times Newspaper
HOLLYWOOD, Md. (Dec. 11, 2008)—James Manning McKay, founder of the well known local food store chain bearing his name, former state delegate and president of the St. Mary's Board of County Commissioners has died.
He was 89.
McKay was remembered by colleagues who had served with him county government as an effective leader who always worked in the best interests of St. Mary's County.
"He was probably one of the most hard-working men I've ever known," said Ford Dean, a former county commissioner. "He had a sense of the people.
"I consider it a privilege to have served with Manning on the Board of County Commissioners."
Dean said that when he served with McKay on the commissioner board back in the 1970's, McKay always tried to stick to business.
"Mannings approach to government was a businessman's approach to government," Dean said of McKay, who had been building his family's chain of grocery stores in the county while serving first in the Maryland legislature and then at the commissioner level.
Dean remembered that McKay had championed a law that required developers building subdivisions to provide letters of credit from a bank or corporate bonds rather than personal bonds for surety on their projects.
If a developer personally ran out of money, Dean said, the county would still get what it was owed.
"Manning saw the wisdom of letters of credit as being in the public interest," Dean said. "He brought a level of maturity and experience to the position."
Ford said that McKay was also largely responsible for the board's current makeup.
When McKay was a delegate in the state legislature, Dean told The County Times, he introduced and supported a bill that expanded the number of county commissioners to five instead of three, with the commissioner president elected at-large.
After serving in Annapolis for four years he returned to local government and ran successfully for commissioner president.
Dean said that McKay's support of the bill insured greater representation for county residents.
McKay was the first commissioner president elected by county residents.
Ernest Bell, Leonardtown-based lawyer and former county attorney who worked for the commissioner board under McKay's leadership, remembered when McKay ran for his delegate's seat in 1970.
"I had just gotten out of the Marine Corp and I was always interested in politics, and there was a debate down at the middle school, there were a lot of candidates [for delegate]," Bell said of a debate he attended were McKay spoke.
"He was so impressive that night."
John Hanson Briscoe, who served with McKay for those four years in the legislature, said that he remembered McKay and his wife, Marilyn McKay opening up their first store in Leonardtown in the early 50s.
He was still working on the navy base in public works at the time, Briscoe said, but would leave to go back to work there at his fledgling business.
"She [Marilyn McKay] ran it and he'd leave work and come there,"
Briscoe remembered that as McKay became more and more successful he never forgot the value of hard work.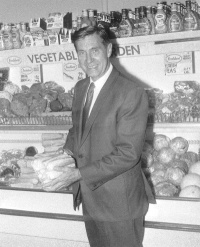 Mr. McKay in his younger years showing some of the produce in one of his earlier grocery stores. (Photo courtesy McKay Family)
"I've seen him mop floors, pick up trash and stock items," Briscoe said. "And he'd give things to people who couldn't pay for them.
"That's the kind of person he was."
While McKay served as a delegate, Bell remembered, he also helped tackle one of the most important and memorable of county issues: the proposal to build an oil refinery at Piney Point.
County voters overwhelmingly cast ballots to oppose the refinery in a referendum.
McKay helped insure that the refinery issue was placed on the ballot, Bell said.
"It was a really big issue," Bell said. "He insured the people had a right to vote on it."
When Bell started to work for McKay and the county commissioners, he said, McKay, a down-to-earth and gregarious spirit tried to get Bell to simply call him Manning.
But he just couldn't bring himself to do it, Bell said.
"He said 'Call me Manning,' but I always called him Mr. McKay." Bell said. "He was so generous, hard working and decent."
Bell compared McKay with two other greats in county politics: Judge Philip Dorsey and Sen. Paul Bailey.
"They were cut from the same cloth," Bell said. "We've lost an icon in the community."
Before McKay rose to become an independent grocer and a state and local official, he served in the U.S. Navy during World War II.
He later worked in the public works department at Patuxent Naval Air Station.
There are now five McKay's grocery stores throughout the county.
In his final years, McKay continued to be active as the publisher of The County Times newspaper, which was the culmination of a long held desire to stake a claim in the newspaper industry.
One of McKay's sons, Thomas F. McKay, who went on to serve in the same local position as his father, said that serving the public was always a value his father tried to instill.
"My father always encouraged his children to public service and he always led us by the example of hard work and dedication to what we were doing," Thomas McKay said. "Serving in the same position as him serving the citizens of St. Mary's County was one of the greatest honors of my life as it was for his."
RELATED INFORMATION:
Obituary for James Manning McKay