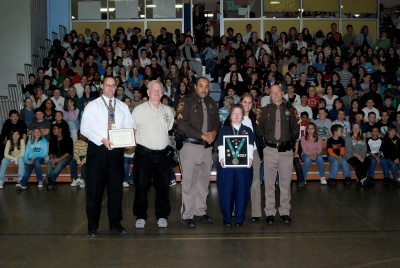 Piccowaxen Middle School students assemble in recognition of their successful fundraising efforts for Special Olympics Maryland. (from left) Piccowaxen Principal Kenneth Schroeck, George Hoehl, Sgt. Gus Proctor, Christine Hoehl (a Special Olympics bronze medalist), Betsy Jiron, and Cpl. Holt. (Submitted photo)
LA PLATA, Md. (Dec. 13, 2008)—The students at Piccowaxen Middle School congregated in the school's gymnasium recently for a special assembly to recognize their success in raising nearly $5,000 for Special Olympics Maryland through fundraisers coordinated by the Charles County Sheriff's officer assigned to their school, Cpl. Gary Holt. The school's ongoing efforts have contributed about 25 percent of the $19,000 raised by the Sheriff's Office this year.
After the students at the assembly watched a video about Special Olympics Maryland, Christine Hoehl, a Special Olympics athlete who earned a bronze medal in bocce ball at the 2007 World Summer Games in China, delivered a speech thanking the students for their contributions to the organization. Betsy Jiron, senior director of special events for Special Olympics Maryland, presented a plaque alongside Hoehl and Hoel's father, George Hoehl, to Cpl. Holt, Piccowaxen Principal Kenneth Schroeck and Sgt. Gus Proctor, who coordinates Special Olympics Maryland fundraisers on behalf of the Sheriff's Office.
The fundraising began last year with a bike-a-thon organized to raise money for the Charles County leg of the Special Olympics Law Enforcement Torch Run. A bus full of 65 students also participated in the Torch Run, which was held in June and included routes for both runners and walkers. Students and faculty at Piccowaxen raised additional money for the event by purchasing Torch Run T-shirts and hats. As part of another fundraiser, Cpl. Holt sold small rubber ducks, which the students decorated to reflect patriotism, school spirit, sports teams and other themes. Many of the ducks are on display outside Cpl. Holt's office at the school.
Special Olympics is a year-round sports training and competition program for children and adults with intellectual disabilities. For more information about this organization and the talented and inspirational athletes it supports, visit
http://www.somd.org/
.