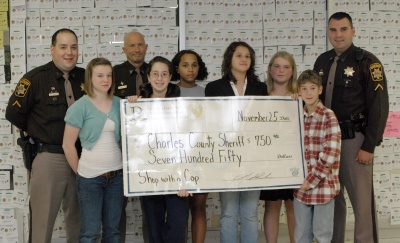 Piccowaxen Middle School students present a check to Officers Colby Shaw, John Long, and Cpl. Holt for $750 to be used for "Shop with a Cop," an outreach program to help local children at Christmas time. Subsequent funds were raised bringing the total to $830.(submitted photo)
LA PLATA, Md. (Dec. 12, 2008)—When Charles County Sheriff's Cpl. Gary Holt told the students at Piccowaxen Middle School about a police-sponsored event called Shop with a Cop, the students were eager to raise money for the kids the program would benefit. With the help of Cpl. Holt, their juvenile intervention officer, they organized a fundraiser and raised $830. On Nov. 23, students presented a check to Officers Colby Shaw and John Long, who organized Shop with a Cop on behalf of the Sheriff's Office and the Charles County Fraternal Order of Police.
Shop with a Cop, which was held Dec. 6, is a national event that pairs specially selected students with police officers who take them shopping for clothing and necessities as well as toys and other gifts. In Charles County, each child was allotted $250 to spend at the Waldorf Wal-Mart. Piccowaxen's donation was enough to allow more than three children to "shop with a cop."
The Piccowaxen students who coordinated the fundraiser sold $1 sponsorship slips to other students and school personnel who wrote their names on the slips and hung them in the school's main corridor.
"This is the first year our officers have participated in Shop with a Cop and the students at Piccowaxen contributed greatly to its success," said Sheriff Rex Coffey. "Under the guidance of Officer Holt and their principal, they gave what they could and asked for nothing in return. They are what the spirit of this holiday is all about and I thank them personally and on behalf of the Sheriff's Office for all their efforts."