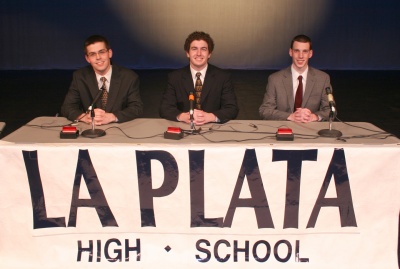 The La Plata High School It's Academic team won the Charles County Public Schools regional competition with a score of 540. Pictured are the three-member competing team from La Plata High School: from left are Robert Garcia, Gavin Reen and Tyler Fini. (Submitted photo)
LA PLATA, Md. (Dec. 12, 2008)—The La Plata High School It's Academic team will participate in the regional televised competition as the first-place winner in the annual Charles County Public Schools competition, held Dec. 11 at the College of Southern Maryland.
The three-member team of Captain Gavin Reen, Robert Garcia and Tyler Fini scored 540 points to earn the top spot. The school was presented with a $500 scholarship from the Greater Waldorf Jaycees and the team will compete against Northwest and Park View high schools on Jan. 31, 2009, which will be aired on WRC TV (NBC 4) on April 4. Each year, secondary schools from the Washington D.C. metropolitan area participate in the televised It's Academic program.
Jonathan Matteson is the La Plata team's alternate and Kendra Mabie, Emma Starkey, Matthew Paesch, Colin Qualters and John Sackman are also members of the La Plata team. Principal is Evelyn Arnold and the team coach is Corinne Fox, a science teacher at La Plata.
Placing second in the competition was the North Point High School team, followed by the Westlake High School team. Teams from Henry E. Lackey High School, Maurice J. McDonough High School and Thomas Stone High School also competed. Each of these schools was presented with a $250 scholarship from the Jaycees.
The five other high school three-member teams were: Lackey - Captain Bruno Orazio, Catherine "Nikki" Henry and Joshua Miller; McDonough - Captain Melanie Mitchell, Shaun "Ross" Gardiner and Deanna Huntt; North Point - Captain Josh Darichuk, William Pickett and Andelle Kudzal; Thomas Stone - Captain Matthew Turner, Simon Jerome and Sean Ward; and Westlake - Captain Tiphanie Gammon, Kimberly Wiman and John Buntz.
Cameron Cox is the Lackey team's alternate and Hazelgrace Afroilan, Sarah Gotzmer, Daniel Russ, Amanda Wilmot, Alanna Asimenios, Marquis Lewis, Caitlin Curtis, Elizabeth Pimm, Jennifer Weightman, Jacob Vahle, Carlyn Gabor and Jennilyn Gabor are also members of Lackey's team. Principal is James Short and the team coach is Don Browder, a social studies teacher at Lackey.
Matt Slobodnik is the McDonough team's alternate. Principal is Jervie Petty and the team coach is Daniel Brady, a science teacher at McDonough.
Thomas Hill is the North Point team's alternate and Kenjeray Bennett, Derek Carey, Luoth Chou, Robert DiMauro, Cayley Dymond, Elizabeth Fletcher, Patrick Gaume, ToLam Nguyen, ToVi Nguyen and Roxanne Sanderson are also members of the North Point team. Principal is Kim Hill and Carrie Akins, an English teacher at North Point, and Deen Stewart, a foreign language teacher at North Point, are the team's coaches.
Emily Le is the Stone team's alternate and Alaric Powell, Jennifer DeMarco, Lemuel Carpenter, Jasper Raguindin, Joseph Trefry, Chase Arnold and John Tavares are also members of the Stone team. Principal is L.C. Martin and Nancy Jeffrey and Claire Gritzinger, foreign language teachers at Stone, are the team's coaches.
Ross McCool is the Westlake team's alternate and Amy Rappole, Victoria Bennett and Kelcey Landgraf are also members of the Westlake team. Principal is Chrystal Benson and the team coach is James Ressler, an English teacher at Westlake.
The Dec. 11 competition will be broadcast on Comcast Channel 96, the school system's educational television station, this month. Check the programming schedule at
http://www2.ccboe.com/publicinfo/channel96.cfm
for dates and times.