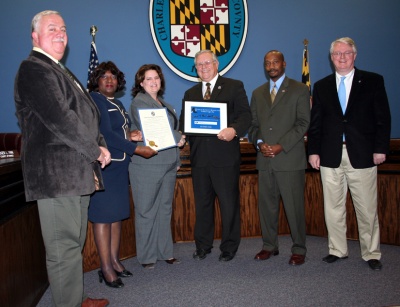 The Charles County Commissioners present Ms. Brianna Bowling (3rd from left), owner and founder of Zekiah Technologies, with the December 2008 "Soar Like an Eagle Entrepreneur of the Month" award. (Submitted photo)
LA PLATA, Md. (Dec. 8, 2008)—Brianna Bowling, owner and founder of Zekiah Technologies, has been named "Soar Like an Eagle Entrepreneur of the Month" for December 2008. The award is sponsored by the Charles County Board of Commissioners.
Zekiah Technologies is a La Plata-based software development and integration company specializing in geospatial analysis and information management. The company was selected by Inc.com to be included on the list of America's 5,000 fastest-growing, privately-owned companies for 2008.
At the award presentation, Economic Development Director George Robertson introduced the company saying, "Brianna Bowling's story is one we want to keep repeating in Charles County. Twenty percent of new jobs in American come from people already in our community who pursue the dream of owning and growing a company in their hometown."
Ms. Bowling grew up in La Plata and attended Charles County Public Schools, including Walter J. Mitchell Elementary, Milton Somers Middle, and La Plata High School. She went to Goucher College in Baltimore, and graduated in 1992.
Ms. Bowling started her company in 1998 after winning a contract to provide HTML support for the Department of Justice. At the time, she was a stay-at-home mother using the Internet to make connections and work from home. Additional work starting coming in and, before long, Zekiah Technologies was incorporated and started adding employees. Today, the firm employs just under 30 people with headquarters in La Plata, as well as satellite divisions in Dahlgren, Virginia, and Colorado Springs, Colorado.
Recently, Ms. Bowling was the featured speaker at a College of Southern Maryland program to encourage high schools girls to pursue careers in math and science. In that speech, she spoke of the opportunities in those fields and shared her own background, including how she started her company.
"We applaud Ms. Bowling's efforts to inspire young people in the community, both by what she says and what she does," said County Commissioner President Wayne Cooper. "Her company and her success as a business owner show the way for other Charles County entrepreneurs and young people to follow."