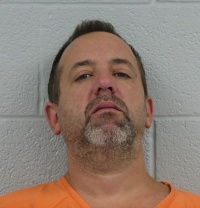 PRINCE FREDERICK, Md. (Dec. 8, 2008)—Lewis Charles Johns, 45, of Chesapeake Beach, was arrested on Dec. 3 in connection with a robbery at the Sunderland Wine and Spirits store the day before. Johns was stopped by a Calvert deputy on the 3rd because his car matched the description of the getaway vehicle. Johns was initially arrested for DUI and driving while suspended and/or revoked. Johns was later charged with armed robbery, first degree assault, second degree assault, theft, and false imprisonment after being interviewed by Det. Michael Mudd, of the Calvert County Sheriff's Office, as a suspect in the robbery.
The robbery was first reported by a store employee. The employee advised Det. Mudd that at approximately 4:58 p.m. a white male, wearing blue jeans, a blue hooded sweatshirt and sunglasses entered the store. The suspect was further described as having gray facial hair, 5'7" to 6 feet in height, about 190 pounds, and between 30 and 50 years old.
The employee said the suspect brandished a knife and demanded cash. The suspect then fled in a dark colored sedan, possible a Pontiac Bonneville, with an unspecified amount of cash. A witness recorded a partial license plate number.
On December 3 at 8:00 p.m., DFC Michael Naecker and Dep. Andre Mitchell conducted a traffic stop on John's vehicle because it matched the description given in the armed robbery.
Anyone with additional information about the incident is asked to contact Det. Mudd at the Calvert County Sheriff's Office at 410-535-1600, ext. 2469. For possible reward call Crime Solvers at 410-535-2880 (anonymous calls are accepted).