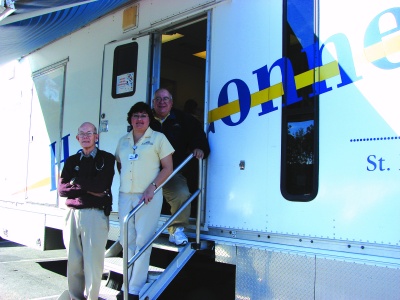 (pictured from left) Dr. Patrick Jarboe, Renee Shively, RN, and Phil Caroselli, the Mobile Outreach Center driver. (Submitted photo)
LEONARDTOWN, Md. (Dec. 8, 2008)—For many people in St. Mary's County, primary healthcare is a luxury and is often unavailable or inconveniently located. In fact, an estimated 12.4 percent of individuals in St. Mary's County are uninsured, according to 2007 U.S. Census data.
That's where Get Connected to Health, a new, low-cost primary care service for the uninsured of St. Mary's County, comes in. The program's first stop is in Lexington Park, which has the single largest concentration of population in St. Mary's County, with a disproportionate number living in poverty or near poverty. The area has a lower per capita income and a high unemployment rate, a combination that can lead to poor health and decreased life spans. And, as the area continues to grow, so does the number of low-income and uninsured residents.
To compound this problem, Lexington Park severely lacks primary care doctors and unfortunately, the problem is only expected to worsen. With the already limited number of primary care providers in the county, physicians aren't accepting new patients and uninsured residents are forced to seek crisis care in St. Mary's Hospital's Emergency Department.
Get Connected to Health, sponsored by St. Mary's Hospital's Health Connections, is available every Monday from 1-5 p.m. at the Lexington Park Library. The service, offered on the Health Connections Mobile Outreach Center, links people in St. Mary's County to a community primary care provider and various health and human services, thereby improving the quality of patients' lives.
The program, which was established this fall, cements the partnership between St. Mary's Hospital and the community in improving the access to care for the low-income and uninsured of St. Mary's County. Community partners in St. Mary's County include the Health Department, Public School System, the Public Library System, the St. Mary's County Development Corporation, Housing Authority, Department of Social Services, Health Share of St. Mary's, On Our Own of St. Mary's, Department of Human Services, Local Management Board and Tri-County Youth Services.
Get Connected boasts a staff that consists of a registered nurse, a volunteer physician and other hospital staff volunteers. Dr. Patrick Jarboe volunteers as the independent licensed healthcare provider. Renee Shively, RN, serves as the nurse/case manager and Phil Caroselli is the Mobile Outreach Center driver.
As no appointment is necessary, patients are welcome to enter the Outreach Center after they have filled out preliminary paperwork in the Lexington Park Library. Patients' vital signs and medical history are taken, and then Dr. Jarboe assesses the individual's medical needs, develops a treatment plan and answers any questions they may have.
The van includes two examination rooms, a wheelchair lift and a cardiac monitor. Influenza vaccines for patients over age 18 are available. Limited point of care laboratory testing is also available for clinical microscopy urine, rapid strep, occult blood or whole blood glucose; patients who need further diagnostic testing are referred to the hospital. Financial assistance is available for further testing. Pregnancy and blood sugar tests are also offered.
The Get Connected staff eventually hopes to hire and credential a family practice nurse practitioner and increase to more hours per week. Another milestone will be upgrading the Outreach Center's computers so staff can access and document into the hospital's electronic medical records system.
There is ample community endorsement for this project, as evidenced by letters of support from Delegate John L. Bohanan Jr.,
Senator Roy Dyson
and the St. Mary's County Board of County Commissioners, among others.
For more information, please call Health Connections at 301-475-6019. A short form determines eligibility for the service and verification of income is required. The charge for each patient visit is $15 and walk-ins are welcome. The Mobile Outreach Center is parked in the lot of the Lexington Park Library at 21677 FDR Boulevard in Lexington Park on Mondays from 1-5 p.m.