Directed by SMCM Senior Josh Bristol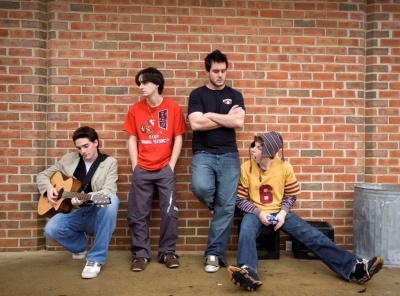 Actors from SubUrbia, which runs Wed. through Sat. in St. Mary's City. (Photo: Rowan Copley; courtesy of The Point News)
ST. MARY'S CITY, Md. (Nov. 25, 2008)—Eric Bogosian's youth-centered SubUrbia opens at the Bruce Davis Theater at St. Mary's College of Maryland (SMCM) Wednesday, Dec. 10 at 8 p.m. Performances are Wednesday through Saturday, Dec. 10-13, at 8 p.m. and Sunday, Dec. 14, at 2 p.m. Ticket prices are $4 to $6. To make reservations, call the Theater Box Office at 240-895-4243 or e-mail boxoffice@smcm.edu. SubUrbia is directed by SMCM senior Josh Bristol and produced by the SMCM theater, film, and media studies department.
Bogosian's tragic play takes place in the town of Burnfield, where a trio of twenty-somethings claim the parking lot of a local 7-Eleven: Jeff, an angst-ridden philosopher; Buff, an easy-going party animal and aspiring filmmaker; and Tim, an alcoholic Air Force vet. With nothing to do, nowhere to go, and no future prospects, they pass the time harassing Nazeer, the Pakistani owner of the convenience store, and reveling in their high school glory days. However, the return of their former high school classmate-turned-rock star causes this one night to forever change the lives of the young people as jealousies and passions flare.
"Mine is a cynical generation," said the 23-year-old director, Bristol. "SubUrbia captures the cynicism of a generation that had little to hope for and less to care about. It's a generation that felt cheated of the promise of an American way of life, of a comfortable suburban life. Everything had been figured out for them, even going to college. But once they did everything they were told to do, what happens? Everything begins to unravel and to fall apart."
Both a dark comedy and a hard-hitting social critique, SubUrbia examines through the lens of a bunch of misfits what keeps people apart and what it means to move on and to leave youth behind.
A Pulitzer Prize-nominated playwright for his 1987 stage and cult hit, Talk Radio, Bogosian is a prolific playwright, novelist, solo stage performer, and television actor, who is probably most recognized by audiences for his current stint as Captain Danny Ross in the television program, Law and Order: Criminal Intent.