By CHRISTOPHER CAREY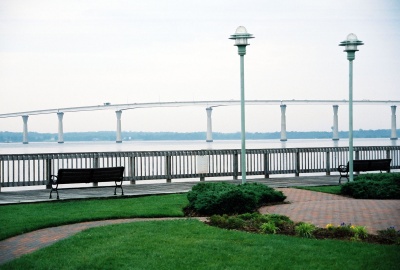 The Governor Thomas Johnson Memorial Bridge as seen from Solomons Island. In addition to being a rush hour bottle-neck, many fear the safety of the structure. (somd.com File Photo)
SOLOMONS ISLAND (Dec. 7, 2008)—A small peninsula on the western side of the Chesapeake Bay, Calvert County is home to the only nuclear power plant in the state.
One of the main exits from the county, the
Governor Thomas Johnson Memorial Bridge
, stretches across the Patuxent River to connect Calvert and St. Mary's counties. The two-lane bridge, built in 1977, is also the only major evacuation route for the southern half of Calvert County.
But some residents and state lawmakers want a new bridge because they fear the current one would not be able to handle the traffic of a mass evacuation of Calvert County following a disaster at the
Calvert Cliffs Nuclear Power Plant
. Government officials disagree.
"I don't think you could have a mass evacuation," said
Sen. Roy Dyson
, a Southern Maryland Democrat, and one of the leading proponents of a new bridge. "If there was ever a need for mass evacuation, some of the locals here say they would have to get boats."
According to the Calvert County Department of Economic Development, approximately 40,536 people reside within a 10-mile radius of the nuclear power plant, which has operated in Lusby since the 1970s.
Some fear that if an incident at the plant were to occur, an evacuation of the 10-mile radius would end in failure. The bridge is notorious for having delays on an almost daily basis, due in part to inadequate shoulder widths that contribute to gridlock.
"It's just two lanes and it's very problematic," said
Delegate Sue Kullen
, D-Calvert. "If there is an accident on the bridge, it just shuts down."
Others, however, believe that the Governor Thomas Johnson Bridge, which currently has daily traffic of about 28,000 vehicles, would stand up to an evacuation.
"There is no reason to believe it won't [support evacuation traffic]," said John Fenwick, the division chief of the Calvert County Emergency Management and Safety Division. "We don't anticipate using both lanes of traffic for an evacuation."
Fenwick said that the worst time frame estimate for an evacuation of every home in the 10-mile radius is six hours and 30 minutes. Even that worse-case scenario would only occur if an evacuation was announced at night during a snowstorm, he said.
"We drill and exercise several times a year with the county," said Maureen Brown, a spokeswoman for Constellation Energy, which operates Calvert Cliffs Nuclear Power Plant. "We can't operate our plant unless we have an approved emergency response plan."
Although Calvert County is one of the fastest growing counties in the state, more than 60 percent of residents commute outside of the county to get to their jobs.
In tough economic times, it is hard to argue for the money required to build a new bridge, however. Even though many believe that a new bridge is desperately needed, the State Highway Administration, in 2005, said that the cost of replacing the bridge would be approximately $250 million and could take 10 years to design and build.
"The truth of the matter is this isn't sitting in Montgomery County or Prince George's County," said Dyson. "You don't get any political mileage out of it."
Although a planning study was funded in 2007 to review the 1.37 mile long bridge and its surrounding area to see how traffic conditions can be improved, Dyson, who estimates a new span will not be constructed until 2020, still views the bridge with wary eyes.
"It doesn't make you feel real comfortable," Dyson said. "I travel back and forth across it almost every day - I guess on a wing and a prayer."
Local residents have also expressed a growing fear of the bridge, especially since a proposed third reactor at the Calvert Cliffs Nuclear Power Plant could begin operating by 2015.
"[The bridge] is terrible in everyday traffic," said Julia Clark, of Solomons.
Although Dyson has long argued that the Governor Thomas Johnson Memorial Bridge is structurally deficient, others see no cause for worry.
"We are 100 percent sure that it is safe," said David Buck, spokesman for the State Highway Administration. "It wouldn't be open if it wasn't able to handle [evacuation traffic]."
The bridge was temporarily closed in 1988, after cracks were found during a routine inspection. Despite differing opinions as to why cracks formed so early in the bridge's life, there was no conclusive reason found.
Kullen did not speculate as to whether the bridge could handle a mass evacuation in the event of an incident at the nuclear power plant. She did say that building a new bridge is Southern Maryland's number one highway priority.
"It's certainly critical in terms of folks leaving the county, but it is also a hot spot," said Kullen. "If anything goes wrong with the bridge, people have a limited ability to leave the county if there are any problems."
Although acknowledging that the bridge has a capacity issue, Buck believes it is safe.
"If there were something that needed to be addressed, we would get out there this afternoon," said Buck. "[We] sleep very good at night."
Dyson, however, will continue to push for a replacement bridge.
"I'm not trying to be an alarmist," said Dyson. "But if I don't speak up for this bridge and try to get this thing changed, then nobody will.
RELATED INFORMATION:
O'Malley on Obama's Call to Invest in U.S. Infrastructure and Schools, Dec. 6, 2008
http://somd.com/news/headlines/2008/8943.shtml