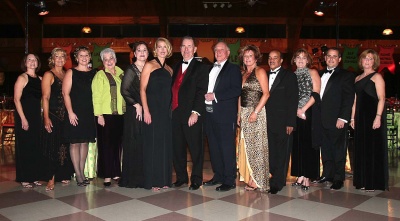 St. Mary's Hospital Foundation Board members. From left: Sharon Cox; Meleesa Autry; Bonnie Bowes; Jan Barnes; St. Mary's Hospital President and CEO Christine R. Wray; Jacquelyn V. Meiser; Board President Robert Russell; Bill Wagoner; Eileen Bildman; Perry Rothwell; Kathleen Hammett; Barry Friedman and Martha Riehl. (Submitted Photo)
LEONARDTOWN, Md. (Dec. 4, 2008)—The 21st Annual St. Mary's Hospital Foundation Gala held Nov. 21 at the Hollywood Social Hall, brought in more than $175,000 to go toward the Foundation's scholarship program. The whimsical event was a sold-out affair and was modeled after the book, Oh, the Places You'll Go!, by Dr. Seuss.
"We were extremely thankful for the success of this year's Gala, especially in consideration of the economic factors affecting every aspect of our community," said Jacquelyn V. Meiser, chairperson for the 2008 Gala.
Guests were greeted by a fanciful carved ice sculpture while walking into the event, which was one of the most unique black tie events in Gala history. Many of the brightly colored indoor decorations fashioned after the popular book were created by the St. Mary's College Theatre Department.
Several of Southern Maryland's most prominent businesses, medical professionals and local organizations sponsored the night's festivities, which also featured delicious cuisine from renowned caterer, Ken Upton, and music from the band Free Spirit. Major event sponsors included premiere sponsor, Wyle; diamond sponsors: Alliance Anesthesia Associates; AMEWAS, Incorporated; Associates in Radiation Medicine; Eagan, McAllister Associates, Inc.; IAP World Services and ManTech Systems Engineering Corporation.
Attendees purchased a set of cordial glasses with proceeds going to the scholarship program. The purchase also put them in the running for a beautiful diamond-studded 18K white and rose gold bracelet appraised at more than $6,000 donated by Blair's Jewelry and Gifts. Gala attendee Susan Griffin won the bracelet.
Proceeds from the Gala will be dedicated to the hospital's scholarship program, which provides funding to help train talented local scholars for a career in healthcare, especially in the nursing and Allied Health fields. In its ninth year, this unique program is a proactive step to recruit and retain highly qualified employees at St. Mary's Hospital.
"We enjoyed the opportunity to showcase the more than 70 scholarship recipients and we look forward to highlighting these scholarship recipients in years to come so Gala guests can have a heightened awareness of how their generous support is put to such a beneficial use," Meiser said.