Scene of original murder is a hot spot for serious violence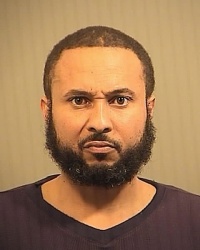 LA PLATA, Md. (Dec. 4, 2008)—Terrell Lamont Thompson, 35, of Waldorf, was arrested Tuesday in Baltimore in connection with a double shooting on June 28 in which one of the victims died. He was arrested without incident and transported to the Charles County Detention Center where he was remanded with no bond.
The arrest was made by members of the Charles County Sheriff's Office and the US Marshals Office Capital Area Regional Task Force.
During the manhunt for Thompson, detectives say they developed many leads about his whereabouts but he continued to elude authorities. Then, acting on recent information, members of the task force learned Thompson was hiding in a residence in the 200 block of North Monroe Street in Baltimore. The task force coordinated a tactical response to the residence and located Thompson inside.
Sheriff Rex Coffey said the arrest marks an important turn in the investigation. "We never gave up looking for Thompson and now we've taken a dangerous, violent criminal off the streets."
The original incident occurred at the Newburg Elks Lodge located at 12445 Rock Point Road on June 28 around 1:44 a.m. Charles County Sheriff's officers were called to the scene for the report of a shooting.
When officers arrived, they discovered two men suffering from gunshot wounds. One of the victims, Michael Lamont Beverly, 33, of Waldorf, was transported to Prince George's Hospital Center where he died a short time later. The second victim, a 24-year-old Newburg man, was transported to a hospital where he was treated for non-life threatening injuries.
Police determined the victims were in the parking lot of the business when an argument broke out between Thompson and the 24-year-old victim. Thompson allegedly produced a handgun and shot the man and then shot Beverly as he tried to intervene.
After the shooting, police say Thompson fled in a blue, four door sedan.
An arrest warrant was obtained for Thompson charging him with first-degree murder.
The Newburg Elks Lodge has been the scene of several assaults and crimes involving handguns in recent years.
On May 25, 2005 police were called to the lodge because of a large fight in the parking lot. Shots were reportedly fired and police recovered a 9mm magazine. The shooter was not identified.
On Jan. 6, 2007 police were again called to the lodge for the report of a fight with weapons and shots fired. Police say a 19 year-old Colonial Beach, Va. man brandished a handgun and fired several shots at the victim, a 28-year-old Washington, D.C. man. Shots also struck a car with two men inside as they were leaving the parking lot. Neither man was injured.
On Oct. 7, 2007 police were called to the address after a 26 year-old La Plata man allegedly beat a 19-year-old man unconscious and then kicked him in the head in a fight over a woman.