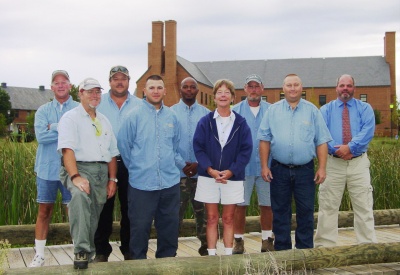 St. Mary's College of Maryland's Audubon-certified grounds crew includes (from left) George Lancaster, James Dyson, Steve Gregory, Kevin Duffy, Eric Reed, Cheryl Krumke, Chris McKay, Rick Thompson and Superintendent of Grounds Kevin Mercer. They are standing on a bridge over a habitat sanctuary created from a storm water management pond once surrounded by nothing but dirt and in front of Goodpaster Hall, which won a silver rating from the Leadership in Energy and Environmental Design's (LEED) green building rating system. (Submitted photo)
ST. MARY'S CITY, Md. (Dec. 3, 2008)—Audubon International has awarded St. Mary's College of Maryland (SMCM) Certification in Environmental Planning from the Audubon Cooperative Sanctuary Program (ACSP). The college is the first in Maryland to receive this certification. The international program is designed to help landowners preserve and enhance the environmental quality of their property. The college's winning plan was developed by Kevin Mercer, SMCM superintendent of grounds. Mercer was also recognized by Audubon International for his effort to plan for environmental stewardship.
"As the first college in Maryland to win this award, I hope this will lead to our serving as a liaison for other colleges and athletic fields in Maryland and the Washington, D.C. area as part of an environmental stewardship program to help create plans like ours. It was a team effort here-our work in IPM [integrated pest management], the challenges of buffer management and protecting the St. Mary's River, creating green space and wildlife habitat, and saving energy and water," said Mercer.
"The Audubon Cooperative Sanctuary Program gives people an opportunity to do something good for the environment right where they live, work and recreate," said Jim Sluiter, staff ecologist for Audubon International. "We welcome St. Mary's College of Maryland's commitment to managing the property in an environmentally sensitive manner."
Participating in the ACSP will involve SMCM in projects that enhance wildlife habitat and conserve natural resources for the benefit of the local community. These projects include emphasizing native plants in landscaping, conserving water and energy, and recycling wastes. One facet of Mercer and his 10-person crew's environmental stewardship plan includes the installation of purple martin houses and bat houses around the SMCM campus as part of an IPM system that reduces the need for pesticides. Student volunteers are helping in the effort.
Mercer and his crew meet the challenge of caring for a campus known for its natural beauty and spectacular site on the banks of a Chesapeake Bay tributary by employing other innovative practices, including using only organic fertilizers and constantly testing the soil. According to Mercer, his successful efforts to maintain a healthy environment are "50 percent science and 50 percent art."
Audubon International is an environmental organization dedicated to educating, assisting and inspiring millions of people from all walks of life to protect and sustain the land, water, wildlife, and natural resources around them. In addition to businesses, Audubon provides programs for golf courses, schools, communities and new developments.