By LAURIE WHITE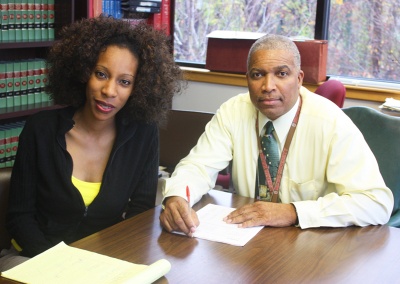 Assistant State's Attorney April Richardson and Sgt. Ted Jones say they are trying to protect Prince George's County residents against housing crimes. (Maryland Newsline photo by Laurie White)
UPPER MARLBORO, Md. (Dec. 1, 2008)—The Prince George's County State's Attorney's Office hopes to send a message to potential perpetrators of mortgage fraud: "Not in this county."
Operating since September, the office's new Mortgage and Foreclosure Division is hoping to bring 20 cases to indictment soon, said Assistant State's Attorney April Richardson.
Richardson said the division is moving forward against loan officers, title companies, lawyers and brokerages thought to have participated in mortgage scams.
Sgt. Ted Jones, a former investigator with the county's homicide division, was hired along with Richardson as part of what Maryland Secretary of Labor Tom Perez has called a "posse" that will protect citizens from housing crimes. Jones said these crimes should not be taken lightly.
"There is very little difference, if any, between a bad guy who robs you of your money at gunpoint and one who steals your home from you," he said. "I think stealing someone's home is worse. You're talking about robbing them of a basic need—a place to live."
Homeowners facing foreclosure are easy targets for criminals because of the financial trauma they're going through, Jones said.
"Often it's a smooth-talking guy or a woman who has a professional persona who says, 'We can help. This is what my company does,'" he said. "At the 11th hour, you just want to hear a friendly voice, any voice that's saying they can help you and allow you to stay in your house for a year."
Jones said the division has been swamped with inquiries from residents, following publicity and community forums in the county this fall.
Jones said he and Richardson conduct an initial telephone screening with complainants and then require them to submit a written summary of their situation.
"It gives them an opportunity to relive the facts, and I can poke holes in their story and see if it's really fraud or if they're so emotionally charged ... they are just thinking that they're victims," Richardson said.
In cases of fraud, the paperwork tells the story, Richardson said.
"Sometimes I don't even need to hear from (the perpetrator)," she said. "I listen to the client's story, and there is no explanation for why a homeowner didn't get (his or her) $89,000 at closing. ... I don't know anyone that's struggling that just gives $90,000 as a gift to a stranger."
Richardson and Jones say they are quick to tell people when fraud is not the issue.
"I'm a shoot-from-the-hip kind of girl, and I will look them in the eyes and say, 'This is just a bad decision,' Richardson said. "'You got caught up.'"
She said that teamwork will be required to reduce Prince George's County's foreclosure rate over the long term.
"If we get (loan) servicers to respond more fairly to homeowners that are in these loans that they should not have been in, then I think we'll actually get somewhere," she said. "But in order to do that there has to be a moratorium on foreclosures, hands down."
She said that homeowners must also take responsibility and learn about their options, and that the county should not give money to reinstate mortgages, an act she says would be a "Band-Aid" on a wound that will bleed again.
"There has to be homeowner accountability," she said. "I sincerely believe that a lot of people who have gotten into these crazy exotic loan products, if you really track their finances, they have not necessarily made proper financial decisions before."
Richardson said that offenders will be held accountable.
"The message is strong," she said. "We are taking the most egregious cases first, and then we're taking the small ones, to show these guys: 'We're going to get you, too.'"
Capital News Service contributed to this report.