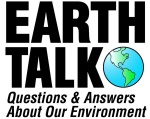 From the Editors of E/The Environmental Magazine
Dear EarthTalk: Can you recommend some sources for toys and other holiday gifts that are both safe and not harmful to the environment?
-- Tracy Gately, Marblehead, MA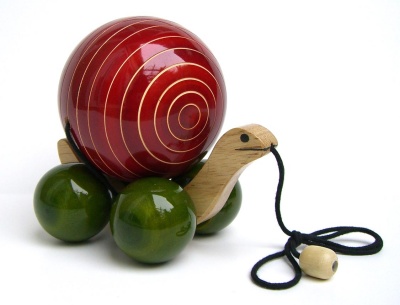 The Internet is teeming with online stores, catalogs and environmental groups that sell green-friendly gifts for the holidays. Pictured here: a child's snail pull-toy from Earthentree, made by artisans in India from sustainable wood that is dyed with natural vegetable dyes and finished with lead free non-toxic organic resin. (Photo: Earthentree)
Given the massive recall of toys contaminated with lead last year, let alone all the other bad news about chemicals seeping out of just about every other conceivable type of consumer item, it's no wonder that people are nervous about what might be inside the wrapping paper this next holiday season. Luckily, growing environmental concerns-and consumer demand-means that plenty of safe and green-friendly items are available for those willing to do a little more than just walk around the closest shopping mall.
For kids' items, Oompa Toys (oompa.com) is hard to beat. The Wisconsin-based company offers thousands of child- and Earth-safe items. On Oompa's easy-to-use website you can buy products ranging from toys, dollhouses and stuffed animals to learning games, musical instruments and art supplies to kitchen play accessories, kids' furniture and tricycles, many items made with organic or recycled materials.
Another interesting online source for kids' toys is Washington-based Earthentree (earthentree.com), which sells dozens of pull toys, rattles, stackers and other goodies to stimulate young hands and minds. All of their products are handcrafted by "fair trade" (fairly compensated) artisans in India using sustainably harvested wood and natural vegetable-based dyes. And Hazelnut Kids (hazelnutkids.com) specializes in natural, earth-friendly wooden and organic cotton toys for kids and babies, and even offers gift-wrapping with recycled and recyclable paper.
For grown-up gifts, EcoArtware (eco-artware.com) sells a variety of items made from recycled and natural materials, from bath and kitchen accessories to pet products to jewelry, including many hand-made items. Everybodygreen (everybodygreen.com) is another good source for green-friendly jewelry. The company's No Plastic charm bracelets are made with corn starch-based resin, natural herbal tea dye and recycled brass. For those holiday parties you might be attending, wine aficionados might appreciate a bottle of Boisset Family Estates' Yellow Jersey pinot noir (yellowjerseywine.com), which comes from France in a 100 percent recycled (and recyclable) plastic bottle.
Looking for fair trade arts and crafts? Gifts with Humanity (giftswithhumanity.com) sells clothing, home décor, jewelry and more from artists in Asia, Africa and Central and South America. Organic Bug (organicbug.com) also sells fair trade items and other natural and organic products from clothing to home décor items to travel accessories. Other websites worth visiting for fair trade and/or green-friendly gifts include peacefulvalleygreetings.com, greenfeet.com, pristineplanet.com, nokiagreenstore.com, gaiam.com, acacia.com and vivaterra.com. A simple Google search for "green holiday gifts" will turn up many more.
Another approach to the holidays, of course, for the sake of lessening one's footprint and tightening the belt in a downturned economy, is to eschew traditional gift-giving in favor of donating to a local or national environmental group in the name of a friend or loved one. This can be accomplished by visiting the websites of your favorite green groups and making your way to their "Donate" page, or by visiting justgive.org or worldofgood.com (by eBay), both which facilitate contributions to worthwhile charities
Dear EarthTalk: I came home today to yet another set of phonebooks at my front door. I feel they are a great waste of paper, especially in this electronic age. How can I stop getting these books? Better yet: How can we get the phone companies to stop making them?
-- Bill Jones, via e-mail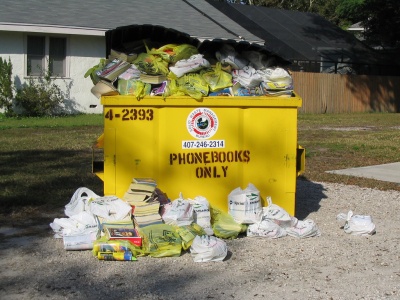 More than 500 million phone directories -­ nearly two books for every American ­- are printed and distributed every year in the U.S., taking with them some 19 million trees. (Photo: Funkeemunkeyland, courtesy Flickr)
Many of us have little or no use for phonebooks anymore. While such directories are helpful for that occasional look-up of a service provider or pizza place, consumers and businesses increasingly rely on the Internet to find goods and services. Directory publishers usually do make their listings available online nowadays, too, but the books are still money-makers for them as prints ads fetch top dollar even though their effectiveness is waning and much harder to track.
According to the nonprofit YellowPagesGoesGreen.org, more than 500 million phone directories-nearly two books for every American-are printed and distributed every year in the U.S., taking with them some 19 million trees. Upwards of 1.6 billion pounds of paper are generated to produce the books from these felled trees, while 7.2 million barrels of oil are churned through in creating them (not including the gasoline used for local deliveries). Producing the directories also uses up 3.2 billion kilowatt hours of electricity and generates 268,000 cubic yards of solid waste that ends up in landfills (not including the books themselves, many of which eventually end up in landfills in areas where recycling is not available or convenient).
Unfortunately, there is no centralized way for consumers to opt-out of receiving the big books like the National Do Not Call Registry for telemarketing. Most individual yellow and white page publishers have "no deliver" lists they can add you to, but they will not be held accountable if the books show up anyway. The YellowPagesGoesGreen.org website will find your local/regional directory pages publishers and ask them not to deliver on your behalf. The site warns, though, that there are no guarantees with this either.
For their part, directory publishers insist they have made great strides in recent years to operate in an environmentally responsible manner. The Yellow Pages Association (YPA) and the Association of Directory Publishers (ADP) have collaborated on formal guidelines calling for source reduction in the production of directories, environmentally sensitive manufacturing practices and enhanced recycling programs. About 90 percent of industry members have adopted the guidelines so far. Examples in practice include the use of water soluble inks and recycling-friendly glues, not to mention forsaking the use of virgin trees in their books (many books are made from recycled old phonebooks, mixed with scrap wood; see a previous column that discussed this:
www.emagazine.com/view/?3651
).
Because of widespread and increasing use of the Internet, many sources of information-from newspapers and magazines to newsletters and, yes, directories-are forsaking print for online placement. So it is really just a matter of time before phone directories follow that lead. In the meantime, asking to be removed from the delivery list of your local directory publisher can only help to hasten that inevitability.
CONTACTS:
www.YellowPagesGoesGreen.org
,
www.yellowpagesgoesgreen.org
; Yellow Pages Association (YPA),
www.ypassociation.org
; Association of Directory Publishers (ADP),
www.adp.org
.
GOT AN ENVIRONMENTAL QUESTION? Send it to: EarthTalk, c/o E/The Environmental Magazine, P.O. Box 5098, Westport, CT 06881 or e-mail: earthtalk (at) emagazine.com.