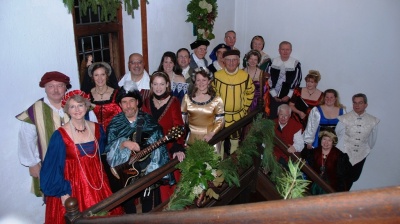 St. Mary's Musica will perform traditional music of the season at this year's PRISM holiday party at the HSMC State House on Thursday, Dec. 18. (Submitted photo)
ST. MARY'S CITY, Md. (Nov. 29, 2008)—PRISM, the organization of public relations and marketing professionals in Southern Maryland, has set their annual holiday party for Thursday, Dec. 18, from 6 to 9 p.m. in the Historic St. Mary's City (HSMC) State House, where the halls will be decked and the candlelight will glow. The evening's festivities will feature music of the season by the St Maries Musica and gourmet heavy hors d'oeuvres.
Complimentary hot cider and soft drinks will be served, and a cash bar will be available. Members and non-members are welcome. Reservations are required; price is $15 for members and $20 for non-members. RSVP to Marc Apter by Dec. 15 by calling 240-895-4381 or e-mailing mlapter (at) smcm.edu.
As per tradition, all are invited to bring a new unwrapped toy to the gathering. The toys will be delivered to the County's Department of Human Services on Dec. 19 for delivery to families this holiday season. The Department of Human Services coordinates the Christmas Caring program each year to match gifts with families in need.
The Mistress Brent Garden Club will adorn the State House for holiday guests, as it has for the past 25 years. Fresh greens, blazing fires, and candlelight will enhance this season's decorating theme at the State House, "The Journey." Nautical details will commemorate the 375th anniversary of the voyage of the Ark and the Dove from England. The State House is a beautiful setting any time of the year, but it is particularly lovely during the holidays.
St Maries Musica, a high-spirited troupe of vocalists from Southern Maryland directed by Stanley "Joey" Hoopengardner, will perform songs from the group's annual Christmas concert repertoire. This year's program, "A Seasonal Greeting," is a blend of traditional carols, seasonal hymns, and other festive songs. Holiday selections featured in the group's concerts this season range from Handel's "And the Glory of the Lord" from "The Messiah" to traditional Christmas songs such as "Carol of the Bells," "I Saw Three Ships" and "Silent Night."
St Maries Musica was formed in 1971 when a group of neighbors in Southern Maryland got together to share their love of madrigal music and formed the Madrigal Choral Ensemble. As the name and costumes suggest, St. Maries Musica specializes in madrigals and other historic choral styles.
The group has performed in such prestigious venues as the Kennedy Center and the Old Executive Office Building in Washington, D.C.
PRISM holds bi-monthly luncheon meetings and occasional workshops to foster professional development and networking opportunities for its members. The meetings rotate between Calvert, Charles and St. Mary's counties. For more information or to join, contact Mike Zabko, Southern Maryland Red Cross, at MikeZ (at) somdredcross.org, call 888-276-2767, or visit www.prismonline.info.