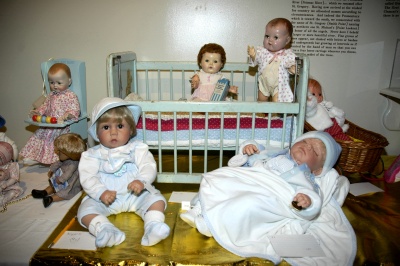 A small sample of the dolls on display at a prior year's annual Holiday Christmas Doll and Train Exhibit at the St. Clement's Island Museum in Colton's Point. (somd.com File Photo)
LEONARDTOWN, Md. (Nov. 29, 2008)—The St. Clement's Island Museum in Colton's Point is getting ready to roll out its annual Holiday Christmas Doll and Train Exhibit for the 23rd consecutive year starting Monday.
This year, the exhibit will host dolls representing 14 different countries and include interesting information about that country's holiday traditions.
"A 7-foot dollhouse will be converted into an old-fashioned post office dressed for the holiday, complete with a mailbox for children to drop off their letters to Santa," said Lydia Wood, the exhibit designer and coordinator. "The Little Red Schoolhouse will be transformed into Santa's Workshop with trains blowing their horns, toys galore, John Deere memorabilia and activities for kids."
The items included in this exhibit are contributed by members of the Southern Maryland Doll Club, Black-eyed Susan Doll Club, and members of the community at large.
Operational model trains are also on display at the adjacent one-room schoolhouse.
This special exhibit is available from December 3 to January 4, 2009, Wednesday through Sunday, noon to 4 pm. Admission is $3 per adult, $1.50 per child 6 to 18, and free for children 5 and under.
A Christmas Open House on Saturday, December 13, offers free admission to all to view the exhibit and enjoy music from the students of the King's Christian Academy, Santa and Mrs. Claus, a free bike give-away, refreshments and more.
The museum is managed by the Museum Division of the St. Mary's County Department of Recreation and Parks and the Board of Commissioners for St. Mary's County. The museum and grounds are handicap accessible.
For more information about the museum, visit
http://www.stmarysmd.com/recreate/museums/stclementsisland.asp
.