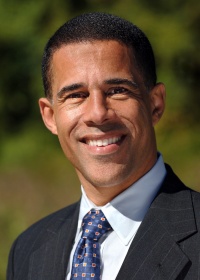 ST. MARY'S CITY, Md. (Nov. 29, 2008) – Anthony G. Brown, lieutenant governor of Maryland, will speak on the "New American Democracy" at St. Mary's College of Maryland (SMCM) on Dec. 1 at 4:30 p.m. His talk will focus on the recent election and the importance of open and transparent styles of leadership. The lecture will be given in the Auerbach Auditorium at St. Mary's Hall and is free and open to the public. This event is sponsored by the SMCM Center for the Study of Democracy.
Michael Cain, director of the Center for the Study of Democracy and professor of politics said this is a great opportunity for students and the community to discuss new initiatives in the Democratic Party. "Lt. Gov. Brown was part of the Democratic Platform committee and helped craft the platform back in August at the convention. With Democratic control of all three branches of government, it will be interesting to see how the platform will translate into policy," Cain said. "This is a big policy speech and I am happy he decided to deliver it at St. Mary's College."
Brown was inaugurated as Maryland's 8th lieutenant governor on Jan. 17, 2007. Before becoming lieutenant governor to Gov. Martin O'Malley, he was twice elected to represent Prince George's County in the Maryland House of Delegates. In his second term he was selected to be Majority Whip. He took an active leadership role on such issues as veterans' affairs, health care and adoption services.
Brown is a Harvard-educated attorney and has been a member of the Active and Reserve components of the U.S. Army since 1984. In 2004, he was deployed to Iraq to serve a 10-month tour with the Multi-National Force-Iraq. He delivered humanitarian assistance to the Iraqi people. In 2007, Brown was promoted to the rank of colonel and now commands the 153rd Legal Support Organization. The lieutenant governor is the highest-ranking elected official in the nation who has served a tour of duty in Iraq.