By Guy Leonard, County Times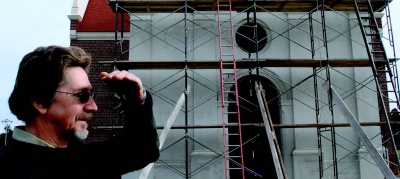 Peter Rivers, a carpenter at St. Mary's City, surveys the final work being done on the reconstruction of the chapel built there in 1667. (Photo: Guy Leonard)
ST. MARY'S CITY, Md. (Nov. 20, 2008)—Aaron Wieland, a mason from Hagerstown, drives about three-and-a-half hours to get to his job site at Historic St. Mary's City where he and other masons, carpenters and craftsmen are nearly finished with the reproduction of the Catholic chapel that once stood there in 1667.
He's often busy just penciling in sealant to keep the oyster-shell mortar between the handmade bricks, material they used back in the 17th century, from eroding away.
It's a job he loves, especially since it's attached to this project — a project that began 20 years ago. "Even if the [Historic St. Mary's City] Foundation didn't have the money, I'd still come down here to work," Wieland told The County Times as he explained some of the building's architectural design. "I pursued working on this building. It's an honor to work on this."
The reproduction, or resurrection, of the 1667 chapel is one of the top priorities in St. Mary's City's quest to recreate some of the most important parts of Maryland's first capital.
With a price tag edging toward $3 million, split roughly between federal grants and donations from the city's supporters and its foundation, the chapel is loaded with history, said Henry Miller, chief archaeologist at the city.
Not only was it the first brick building in Maryland, he said, but it was also the first permanent Catholic Church built in the English colonies in America, a tribute to the "liberty of conscience" doctrine of religious freedom espoused by Lord Baltimore when the colony was first founded in 1634.
"In those days a Catholic church could not be built in the English speaking world, except here," Miller said. "They were only allowed a private chapel in their homes." Prominent Catholics in the colony were also buried there, said project carpenter Peter Rivers, in the perimeter of the church walls.
And the sandstone tiles soon to be laid down, Rivers said, will be placed in formation close to the way they were in 1667, over the dead.
Miller said that while the furniture and interior design has yet to be completed, the architectural work would be done by the end of this year.
The chapel itself was meant to be "an architectural learning experiment," Miller said, with craftsmen and archaeologists like himself having to relearn how 17th century builders — with precious little knowledge of mathematics and largely illiterate — were able to create such a structure by skill passed down from other masters.
"We kept track of person/day labor so we could know how much effort and time it took," Miller explained. "And we had to figure out how to recreate the window holes with the bricks."
Miller and other researchers learned that colonists in those days could also only have worked on the chapel during late spring through autumn, or late April through October, because freezing temperatures ensured that the mortar, made from burnt oyster shells, would not set properly.
"They knew it as second nature," Miller said of 17th century masons. "We had to figure it out." The chapel has attracted the eye of builders and craftsmen from the Old World as well, Miller said, who were also curious to see how their ancestors would have built churches.
"Nowhere is there a 17th century building like that being constructed," Miller said of the St. Mary's chapel project. "Nowhere!"
St. Mary's City continues to finish out long, sought after projects and continue running exhibits even though tough economic times have hit. In mid September, they opened a new museum atop the archaeology dig of St. John's Freehold, the home of Maryland colonist John Lewger in 1638, which subsequently became the meeting place of the Maryland colonial legislature.
It was where Mathias de Sousa, a black Portuguese mariner, cast a vote in the legislature and it was also the site where Margaret Brent first asked for voting rights. It later became the home of Maryland Governor Charles Calvert.
And despite state level budget cuts that would have shut down its operation, the foundation has put up the money to keep the open air Woodland Indian hamlet, one of their most popular exhibits, running.
"We've been asked to cut about $135,000," said Sue Wilkerson, spokeswoman for Historic St. Mary's City. "But the foundation has stepped in… we considered closing it but it's such an important part of the story we want to tell."