Defendant represented himself in court and exhibited disruptive behavior during trial
By Guy Leonard, County Times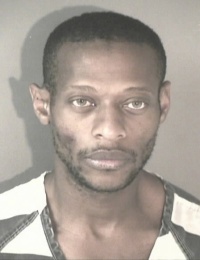 Antonio Warren Gantt, 42, of St. Leonard, was found guilty on several charges related to a 2007 robbery of Maryland Bank and Trust on South Shangri La Drive in Lexington Park. (Police photo from Nov. 2007 arrest)
HOLLYWOOD, Md. (Nov. 20, 2008)—A county Circuit Court jury found Antonio Warren Gantt, the man accused of spraying gasoline on tellers at the Lexington Park Maryland Bank and Trust Co. in order to steal money last year, guilty on charges of robbery, robbery with a dangerous weapon, theft over $500 and second degree assault against three bank employees Tuesday.
Gantt, who had earlier fired his public defender and refused legal counsel from the state, was totally silent through most of the trial but later acted out in court again and again, railing that his rights had been violated and that he had been intimidated into not speaking.
Circuit Court Judge C. Clarke Raley ordered deputies to bind and gag Gantt with tape in the waning hours of the trial day to restrain his outbursts.
It took the jury only 19 minutes to reach their verdict of guilty on all counts.
The jury heard dramatic testimony from three female bank employees who were present on Oct. 31, 2007 when Gantt robbed the bank on Shangri-La Drive.
Louise Delozier was one of the tellers doused by Gantt with gasoline from a sports drink bottle.
"He screamed get in the back! Give me money! Give me money!" Delozier told the jury. "I was terrified to say the least."
During the robbery, Delozier and other co-workers testified, Gantt herded them into one of the bank's vault after stealing about $40,000 in cash, some of which, it was revealed, had been bait money that could be easily traced.
"He said he was going to kill us if we didn't give him the money," testified branch manager Valerie Buckner.
She described the mood in the bank vault, after Gantt had forced them in there, as one of "panic and fear."
"I was afraid he'd set the bank on fire," Bucker said.
Gantt did not respond to any requests to cross-examine witnesses, save but a few, where he attempted to show that witnesses could not positively identify him because they could not remember exactly what clothes he was wearing.
A gas station employee in Lexington Park that day testified that she had sold Gantt about .47 cents in gasoline before the robbery had occurred.
He had told her that he needed it for his lawnmower, she said.
Gantt hailed a cab at the Friendly Cab Co. just after the robbery and when the dispatcher recognized Gantt - he had seen his likeness circulated just one month earlier for a bank robbery at the same location - he called police while at the same time giving Gantt a cab.
The company was able to track the movements of the cab so police could apprehend Gantt at the intersection of Route 235 and St. Andrews Church Road headed towards the Solomons Island bridge.
After State's Attorney Richard D. Fritz rested the prosecution's case, Gantt was denied the ability to call witnesses in his defense.
Raley ruled that since Gantt had refused counsel, even at the court's continued encouragement, failed to cross examine nearly all the witnesses as well as summons any of those who testified for the state, he would not be allowed to call any witnesses.
Gantt protested and yelled out to the jury that he had not received a fair trial and that his constitutional rights had been violated.
"They don't want me to tell the truth!" Gantt yelled out as he revealed a shock belt he had been made to wear as a security precaution. "They threatened to shock me with 70,000 volts!
"I didn't rob that bank!"
Guards commanded Gantt to sit down when he yelled out and dropped to the floor, claiming he had been electrocuted.
Guards told Raley they did not activate the restraint.
Gantt had to be taken back in the holding area of the court and could be heard screaming: "Stop breaking my arm!" When he was brought back in he was shackled and gagged and complained, in a muffled voice, that he couldn't breathe properly.
Raley eventually allowed the gag to be removed.
When he protested again at his treatment Raley said: "You were given every opportunity to prepare your case… you [have chosen] to simply remain silent and sit there."
Raley continued by saying that he believed Gantt's sole purpose was "simply to disrupt the process any way you can."
"You made the choices; they were extremely poor choices."
Gantt's closing argument reiterated his outbursts earlier in court, while Fritz's argument focused not on the money Gantt stole but the fear he instilled.
"He'd like you to think this case is all about him," Fritz said. "It is all about him, it's about his guilt and it's about the fear he struck in the hearts of six women.
"It's the fear of being burned alive."
Gantt allegedly robbed the same bank weeks earlier on September 25, 2007. After that robbery, police say Gantt fled the state. Gantt is set to be tried this week for that robbery.
Fritz is seeking life without parole for Gantt's punishment.
RELATED INFORMATION:
Calvert Man Robs Same L.P. Bank Twice, Taxi Cab Getaway Short Lived; November 01, 2007
http://somd.com/news/headlines/2007/6656.shtml
St. Mary's Police on Lookout for Lexington Park Bank Robber, September 26, 2007
http://somd.com/news/headlines/2007/6453.shtml