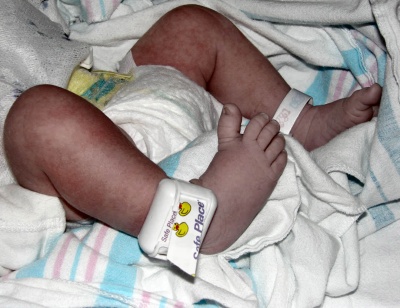 The Safe Place monitor, seen on the infant's right ankle, is now in use at St. Mary's Hospital in Leonardtown to protect from infant abductions. (Submitted photo)


LEONARDTOWN, Md. (Nov. 26, 2008)—St. Mary's Hospital has implemented an infant/child security system to avoid potential abductions. The computer-based Safe Place system tracks the whereabouts of infants in the Women's Health and Family Birthing Center and children under 10 years old in the pediatrics department through the use of ankle bracelets to ensure no one leaves the area.

"We've gone the next step in terms of security," said Janet Evans, director of the Women's Health and Family Birthing Center, noting the measure is precautionary since child abductions have never happened at St. Mary's Hospital.

The system uses radio frequency technology to monitor the ankle bracelets with antennas mounted throughout the departments. The nursing staff and operator receive notification if a patient leaves the designated area or if a bracelet is cut or removed without authorization from a nurse.

Hospital officials say use of the system will improve the protection of patients through awareness of potential abductions, and serve as a deterrent for abductions and by providing an increased sense of security for patients.

The Women's Health and Family Birthing Center became a locked unit in 2001 as another safety precaution, according to hospital officials.

The Safe Place system was developed by RF Technologies of Brookfield, WI.

St. Mary's Hospital delivered 1,107 babies and cared for 203 inpatients in the Pediatrics Department in 2007.