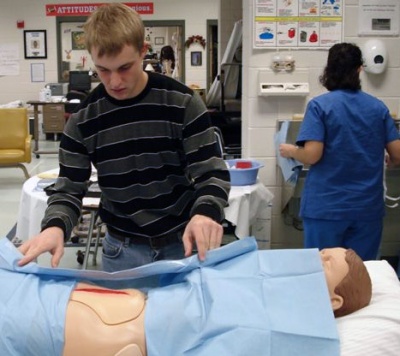 Technical center student Jarod Stevenson practices dressing a patient during a visit from two St. Mary's Hospital nurses on Nov. 13. (Submitted photo)
LEONARDTOWN, Md. (Nov. 21, 2008)—Students at the Dr. James A. Forrest Career and Technology Center in Leonardtown learned real-world medical applications from two St. Mary's Hospital nurses on Nov. 13 as part of Perioperative Nurse Week.
Jamie Jackson and Darcy Bishop, both registered nurses in the hospital's Perioperative Services Department, provided hands-on activities to students in the technical center's anatomy/physiology and Allied Health classes. Jackson and Bishop discussed the details of their jobs and had students practice scrubbing their hands, gowning, gloving and draping a patient.
The skills the students learned "help them learn infection control measures for the surgical patient unit," said Christine Mattingly, a registered nurse and anatomy/physiology and Allied Health teacher at the technical center. "Students who perform procedures and demonstrate competency learn to analyze and evaluate their abilities efficiently."
This is the second year Jackson and Bishop have spoken to students at the technical center during Perioperative Nurse Week.
Jackson said it is important for students to ask questions to professionals in the medical field. Some of the questions Jackson received ranged from what is real on television to what education path she took to get to where she is today. She encourages students to look into internships and scholarships, such as through the St. Mary's Hospital Foundation, which provides scholarships to Allied Health and nursing students.
The scholarship application can be found at
http://www.smhwecare.com/careers_healthcarescholarships.html
and is due March 15, 2009. For more information, call 301-475-6017.