By Ken Lamb, The Tackle Box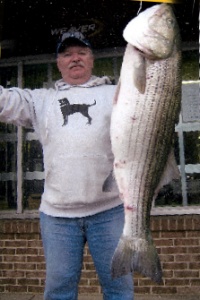 Doug Walters landed this 46 inch, 37 pound rockfish on a white umbrella at the HI buoy.
LEXINGTON PARK, Md. (Nov. 20, 2008)—Rockfishing is excellent in the middle Chesapeake and in the Potomac River. Trollers using umbrella rigs, tandem bucktails and parachutes, Daisy chains and big spoons boated fish everyday the wind, fog, and rain allowed the boats a moment's respite from lousy conditions.
There seems to be no limit to the availability of big fish willing to bite on the green or white lures trolled in all depths from 20 feet to 90. Smaller fish under 28 inches are also eager in the deep and in the shallows of the Patuxent and Potomac. There were few breaking fish seen this week, but big feeding frenzies on the surface attracting gulls and gannets will be happening as the weather cools and more fish arrive from the Atlantic and gather in the mid-bay.
White perch are in the deeper holes of the Patuxent for sinker dunkers using bloodworms.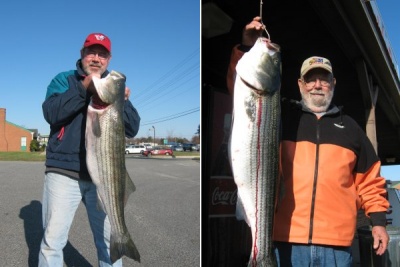 Left: Stephen Bernard gat this 42 inch, 25 pound rock at Point No Point Monday morning. Right: Bill Beardslee trolled just east of Point No Point to catch this beauty Monday morning.
Read more local fishing news at
http://www.dnr.state.md.us/fisheries/fishingreport/
.