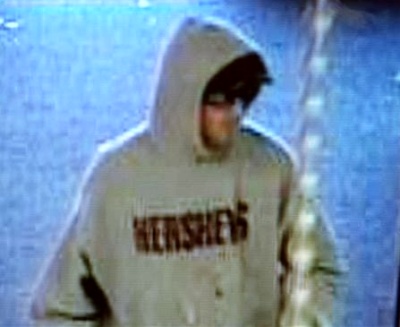 A store surveillance photo of a man who allegedly tried to rob the Giant pharmacy in Lusby of a "popular pain medication" on Monday. Police suspect the man executed a similar robbery on Oct. 30.
PRINCE FREDERICK, Md. (Nov. 18, 2008)—Police in Calvert County are looking for at least one man who entered two separate pharmacies in recent weeks and demanded what police called a "popular pain medication." One of the robberies was successful. No one was hurt in either incident.
The most recent incident occurred on Monday just before 2:00 p.m. at the Giant store located on Rousby Hall Road in Lusby. Witnesses told police that an unknown white male approached the pharmacist, inferred that he possessed a handgun, and demanded a popular pain medication. The suspect was denied the medication and he fled the store.
Police describe the suspect as 5'06"-5'08", thin built, white male with dirty blond facial hair wearing a light gray hooded sweatshirt with "Hershey's" across the chest and dark pants. The man was seen leaving in a silver Nissan Maxima with tinted windows.
The first incident occurred on Oct. 30 at approximately 10:50 a.m. at the Friendly Pharmacy, located on Town Square Drive in Lusby. Police say a man matching the description of the suspect in Monday's incident entered the pharmacy displaying a 6-8" kitchen knife and demanded a popular pain medication. Store personnel complied with the request and the suspect left with an unknown amount of the medication.
A red Chevy S-10 Extreme was seen leaving the scene, say police.
Anyone with information relating to these crimes please contact the Maryland State Police, Prince Frederick Barrack, at 410-535-1400 or the Calvert County Sheriff's Office at 410-535-2800. For a possible reward call Crime Solvers at 410-535-2880.