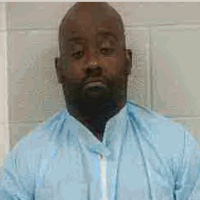 Clifton Bernard Curtis, 33, of Huntingtown, was arrested after allegedly stabbing his wife with a large kitchen knife Monday night. (Arrest photo)
PRINCE FREDERICK, Md. (Nov. 18, 2008)—Clifton Bernard Curtis, 33, of Huntingtown, has been arrested and charged with the attempted murder of his wife, among other charges. Erin Curtis, 33, the wife, was transported to a trauma hospital with stab and slash wounds where she is reported in stable condition. The couple's two young children were in the home at the time of the attack, but were not injured.
Calvert Deputy First Class McCarroll was called to the Solomons Island Rd. residence Monday around 9:14 p.m. for a domestic assault report. Upon his arrival he was met by Clifton Curtis who was standing in the doorway of the residence wearing blood stained clothing, say police.
Police say Bernard informed Deputy McCarroll that his wife was lying at the bottom of the stairway and the children, ages 2 and 9, were upstairs.
Police say they found the victim, Erin Curtis, had been stabbed and slashed with a large kitchen knife multiple times.
Ms. Curtis was transported to a trauma hospital via helicopter where she was reported to be in stable condition.
Clifton Curtis was arrested and charged with Attempted 2nd Degree Murder, First Degree Assault, 2nd Degree Assault and Reckless Endangerment. He is awaiting a bond review.
The two children are currently under the care of the Department of Social Service, report police. They were not injured in the altercation.
Det. J. Hollinger, of the Calvert Investigative Team (CIT), has been assigned to handle the investigation.