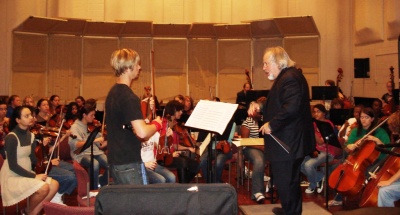 St. Mary's College of Maryland Orchestra Director Jeffrey Silberschlag rehearses with college and local high school music students as part of the college's music outreach program. (Photo: SMCM/submitted photo)
ST. MARY'S CITY, Md. (Nov. 17, 2008)—The St. Mary's College of Maryland (SMCM) Orchestra, along with some 50 music students from Chopticon, Leonardtown, and Great Mills high schools, will perform Bruckner Symphony No. 4, Mozart Serenade No. 12 for Winds and Ewazen Western Fanfare on Sunday, Nov. 23, at 3 p.m. in the Athletic and Recreation Center Arena. The performance is directed by Jeffrey Silberschlag. The concert is free and open to the public.
The performance is offered by the SMCM Music Department in collaboration with the SMCM Arts Alliance Outreach Program.
Silberschlag is music director and conductor of the Chesapeake Orchestra, River Concert Series and Alba Music Festival. "This concert is another in our collaborative program with the county's talented high school music students. The Arts Alliance Outreach Program and the college are committed to sharing the gift of music with all facets of our community. It's a learning experience for everyone," said Silberschlag.
The SMCM Orchestra and county high school students last played together in 2006.
Silberschlag has a distinguished career as a conductor and trumpeter, having recorded with the London Symphony Orchestra, London Philharmonic, Seattle Symphony, Royal Liverpool Philharmonic, Warsaw Philharmonic, and Czech Radio Symphony. Silberschlag has served on the faculty at St. Mary's College of Maryland since 1988 and is currently Artistic Director and Head of Music Performance.