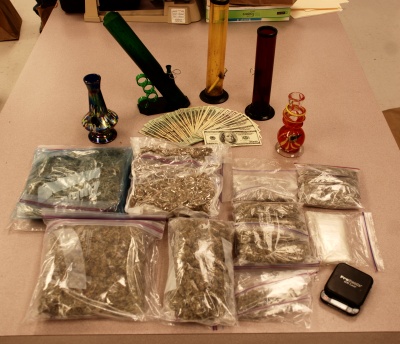 Some of the items seized from a 6th Street residence in North Beach after police executed a search warrant on Nov. 11. (Police photo)
PRINCE FREDERICK, Md. (Nov. 17, 2008)—Police in Calvert County on Tuesday Nov. 11 raided a North Beach residence resulting in one arrest and seizure of 3.61 pounds of marijuana. Brett Evan Ward, 44, of North Beach, was arrested and charged with possession of marijuana, possession with intent to distribute marijuana and possession of drug paraphernalia. Police estimate the street value of the drugs at $10,000.
Police say they executed a search warrant at the 6th Street home at 8:30 in the morning. Police say the search warrant was the result of an "intense investigation" conducted by members of the Calvert Investigative Team Narcotics Unit—comprised of officers from the Calvert County Sheriff's Office and the Maryland State Police.
In addition to the marijuana, police say they seized $1,310 in currency, four vehicles, smoking devices, a scale, and empty zip-loc bags.
Ward was released from custody the following day.
Police say their investigation is continuing and charges and additional arrests are pending on three other occupants of the home.