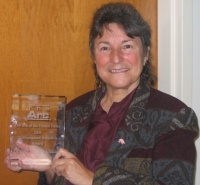 St. Mary's College of Maryland psychology professor, Dr. Laraine M. Glidden, received the Arc 2008 Distinguished Research Award for her findings regarding families who raise developmentally disabled children. (submitted photo)
ST. MARY'S CITY, Md. (Nov. 16, 2008)—A St. Mary's College of Maryland (SMCM) psychology professor known for her groundbreaking research on raising children with developmental disabilities is the recipient of the Arc of the United States' 2008 Distinguished Research Award. Dr. Laraine M. Glidden was presented the award during the Arc's National Convention in Albuquerque, New Mexico on Nov. 7. Her research demonstrates that both adoptive and birth families are, by and large, extremely resilient and find great rewards in meeting the challenges of raising children with special needs. This proved to be true for families who had children with Down syndrome and also for those with children with other kinds of developmental disabilities.
"I have learned a great deal from the families that I have studied," said Glidden. "They have taught me the meaning of Winston Churchill's distinction between an optimist and a pessimist. My results demonstrate that almost all families find opportunity in difficulty rather than difficulty in opportunity."
Mary V. Jordan, president of the Arc of the United States, congratulated Glidden in a letter on receiving the award for "contributions through your 20 years of research to bring greater understanding in the area of birth and adoptive families rearing children with developmental disabilities." The award honors an outstanding researcher who has contributed in significant ways to studies that enhance the well-being of people with intellectual and developmental disabilities and their families.
Glidden has taught at SMCM since 1976. She has worked in the disability field for more than 40 years, since her graduate school years at the University of Illinois, Urbana. Her research on the positive outcomes for parents raising children with developmental disabilities was funded by the U.S. National Institute of Child Health and Human Development for 20 years. It helped change the thinking of professionals and parents about what it means to have a special-needs child as part of the family.
Glidden has held leadership positions nationally and internationally. This year she was invited to address audiences at universities in South Africa, Wales and Australia. She has served as president of the Academy on Mental Retardation and of the Mental Retardation/Developmental Disabilities Division of the American Psychological Association. Since 1997, she has edited the monograph series, International Review of Research in Mental Retardation (Elsevier/Academic Press). She also writes extensively for other professional journals, and serves on the Advisory Board of the Kennedy Center at Vanderbilt University and is a founding member of the Sibling Research Consortium at Vanderbilt.
The Arc, formerly the Association for Retarded Citizens, is the world's largest community-based organization of and for people with intellectual and developmental disabilities. It provides an array of services and support for families and individuals. More than 140,000 members are affiliated with the Arc through more than 850 state and local chapters across the nation. The organization's mission is to promote and improve support and services for all people with intellectual and developmental disabilities.