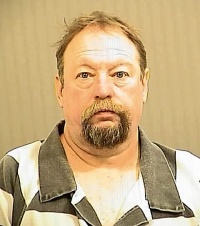 Joseph John Plass, 57, of Waldorf has been charged with first-degree murder in the Nov. 12 death of Shelton D. Stephens, 52, of Florida. (Arrest photo)
WALDORF, Md. (Nov. 13, 2008)—Shelton D. Stephens, 52, of Dunnellon, Florida, was fatally stabbed Wednesday night in the parking lot of the Super 8 Motel located at 3550 Crain Highway in Waldorf. Stephens was pronounced dead on the scene by authorities. Joseph John Plass, 57, of Waldorf, was arrested and charged with first-degree murder by the Charles County Sheriff's Office Major Crimes Unit. The motive for the stabbing is unknown to police.
Charles County Sheriff's officers were called to the Super 8 Motel around 7:38 p.m. for the report of an unconscious male lying in the lobby. Upon arrival, officers say they found the victim dead with stab wounds to his upper body.
Police subsequently determined that Stephens left the Hooters restaurant at 3600 Crain Highway and was walking in the parking lot between the restaurant and motel when Plass approached and stabbed him in the upper body. After the assault, Stephens ran to the motel and collapsed in the lobby, say police.
Police say witnesses provided them with a description of the suspect and indicated he had walked back to Hooters. Detectives located Plass inside the restaurant and recovered a knife from his clothing. He was arrested without incident.
Plass was charged with first-degree murder and remanded to the Charles County Detention Center with no bond.
Investigators determined that the suspect and the victim were inside the restaurant prior to the incident but there were no obvious indications of an argument between the men, nor does it appear they knew each other. Police say it is not clear what led to the assault.
Police are asking anyone with additional information to call Detective Higgs at (301) 609-6498. Callers wishing to remain anonymous may call Crime Solvers at 1-866-411-TIPS.