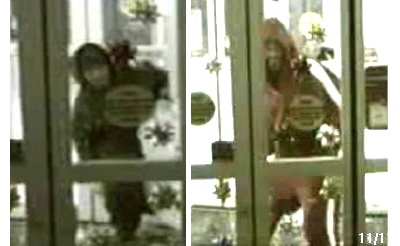 Surveillance cameras captured two robbers as they enter the CVS in Dunkirk to liberate the store of 63 cartons of cigarettes.
PRINCE FREDERICK, Md. (Nov. 13, 2008)—Police in Calvert County say two men broke into the CVS store on Ward Road in Dunkirk and stole 63 cartons of cigarettes Tuesday night around 11:50 p.m.
Police describe the two suspects as follows:
SUSPECT #1: Black male, approximately 6'- 6'2" in height, having a medium to light complexion with facial hair and a goatee. His age is estimated between 20-40 years old. He was wearing a maroon jogging suit that had a white stripe down the sleeves and pants and also was observed to wear white or grey running shoes.
SUSPECT #2: Black male approximately 6' feet in height, having a medium complexion and was seen to have facial hair. He was observed wearing a black hooded shirt, a heavy black coat, black pants and tan or brown boots.
Store surveillance camera captured images of both men as they entered the building.