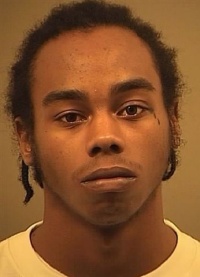 LA PLATA, Md. (Nov. 10, 2008)—Homicide suspect James Cornell Ford, Jr., 20, of Oxon Hill, was arrested Nov. 4 by law enforcement authorities in Tuscaloosa, Alabama who were investigating Ford's involvement in a theft. Alabama officers learned that Ford gave them a fictitious name and that he was wanted in Charles County for a homicide. After checking the Charles County Sheriff's Office Web site—where Ford was listed as a wanted fugitive—officials were able to confirm Ford's true identity. He was taken into custody and is awaiting extradition.
Ford is wanted for the shooting of Joseph Ray Burgess, 21, of Waldorf, on August 11 around 11:03 p.m. The shooting took place in the 3000 block of Heathcote Road in Waldorf.
Police say Burgess was outside with a group of friends when Ford approached the group and began arguing about an event that occurred earlier in the evening. Police say Ford produced a handgun, pistol whipped one man, and then shot Burgess in the upper body. Burgess was pronounced dead on the scene.
Investigators say they immediately obtained an arrest warrant charging Ford with first degree murder, second degree murder, first degree assault, and second degree assault, but he fled the area. Despite an extensive search by police, Ford managed to avoid apprehension until he was arrested in Alabama.
"Our Web site certainly helped expedite the confirmation of Ford's identity which allowed officers to move quickly to start the extradition process," said Lt. Kevin Leahy, commander of the Investigations Section.