By Andrea Shiell, County Times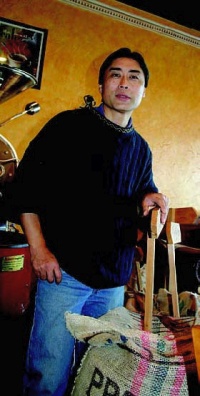 Richard Shin stands next to his shop's roaster preparing beans at the Coffee Quarter in Lexington Park. (Photo: Andrea Shiell)
HOLLYWOOD, Md. (Nov. 6, 2008)—Richard Shin knows many of his customers by name, and he cheerfully waved and called out to them as they entered his shop, passing by and waving back as he poured green coffee beans in his large roaster and adjusted a few settings.
Burlap sacks full of beans from Costa Rica, Tanzania, Brazil, and Ethiopia lined each end of the register. Warm lighting glinted off the colors of the walls as the smell of coffee wafted from one end of the shop to the other.
It was a typical day at Coffee Quarter in Lexington Park, and Shin was overflowing with energy as he bounded back and forth from the dining room to the large Turkish roaster near the front of his shop. One might wonder where he would get all this energy, even though he has access to unlimited caffeine, since he works full time as an electrical engineer in addition to running his shop, making for what has often amounted to 60 hours a week at each job.
Still it was easy to see that with Shin, this was one of the best parts of his day, and today he was roasting espresso beans.
"This is my own blend," he said, "I roast the espresso just like the Italians do." By this he meant his goal would always be to achieve rich caramel-colored shots with a sweet aftertaste, like those first made famous in Italy.
As for the roaster itself, Shin laughed when he said, "most people think it's a grinder. Most people don't know what it is, so I have to explain it to them," he said, emptying the darkened beans from the pan of the roaster to cool.
The equipment itself is impressive, a Toper 10 kilo roaster from Turkey with a cast iron drum, which Shin kicks into gear as often as two or three times a week in order to keep his shop stocked with freshly roasted beans.
Since opening in 2003, Shin said he aimed to bring a gourmet touch to the world of small town coffee houses, starting with the coffee, which they roast on-site each week. They've extended the home-roasting ethos even to the turkey and roast beef they make their sandwiches with. Shin said the homegrown approach has not stopped there. In addition to the full deli, he has also partnered with local bread gurus Beau and Shari Walker to bring a full service bakery on-site, offering "no fluff, all flavor" artisan breads and pastries.
The Walkers said their involvement with Shin's shop happened after they had enjoyed a great deal of success selling their wares at the Farmer's Market.
"We took our dining room apart and reassembled it as a bakery," said Shari Walker as she explained their humble beginnings. "We would show up in St. Mary's City and by the third week, there were ten or twelve cars parked and waiting for us to set up," she said, adding that they never did get around to setting up an actual table for their product, since people would just mob their car to buy the bread when they arrived.
Shin said his biggest concern during the economic crisis would be to stay afloat and diversify as much as possible.
"Mountain Mudd went out of business, Chicken Coop went out of business…I think a lot of small businesses are struggling. I know we are. But that's why we're doing this…this is a close-knit coffee shop," he said, as he warmly greeted yet another customer by their first name. "We'd like to extend that to the rest of the community."