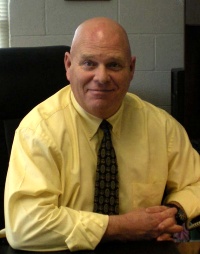 LA PLATA, Md. (Nov. 9, 2008)—The Charles County Commissioners last week announced the appointment of William D. Stephens as the Director of the Charles County Department of Emergency Services. Stephens has served as the interim director of the Department of Emergency Services since May 5, 2008.
Stephens replaced Alex J. Naar, who was ousted after only three months on the job. Naar had relocated from Muir Beach, California to assume the position.
Stephens' public safety career began 22 years ago with the City of Myrtle Beach in South Carolina where he served as the city's Risk and Emergency Manager. During his tenure Mr. Stephens directed the city's response to and recovery from seven hurricanes including Hurricane Hugo, a major category 4 storm in September 1989. During that time he also provided emergency management support to the State of Florida, Dade County and the City of Homestead before and after the landfall of Hurricane Andrew in August 1992.
"Bill Stephens has helped guide the Emergency Services Dept. in new and positive directions during his time as Interim Director. His extensive experience and wide-ranging knowledge of emergency service makes him more than qualified to fill this role on a permanent basis," said Commissioner President Wayne Cooper.
"In addition to managing the Department of Emergency Services, Mr. Stephens also facilitates communications with the Volunteer Fire and EMS system within the County. He has worked diligently at building a strong relationship between the Charles County Department of Emergency Services and the Volunteer Fire and EMS community in Charles County, and I believe that he is doing an outstanding job," said Commissioner Samuel N. Graves, Jr.
Stephens serves on a number of regional, statewide and federal level Homeland Security committees, the 2003 Federal Emergency Management Agency (FEMA) National Incident Management System (NIMS) implementation committee, and the 2006 Department of Homeland Security (DHS) Public Safety Interoperability Communications (PSIC) Peer Review Group. Mr. Stephens is a member of the International Association of Emergency Managers (IAEM).
Stephens began his career with Charles County on December 8, 2003 as the County's Domestic Preparedness Coordinator responsible for the development and execution of the County's Emergency Operations Plan and the formation and operation of the Charles County Tactical Response Team. As the Director of Emergency Services, Mr. Stephens will oversee 911 Communications, Emergency Medical Services, Animal Control, Emergency Management, Tactical Response Team and False Alarm Reduction.
Stephens, a resident of Swan Point, Maryland, is a graduate of Durham Community College with an Associates Degree in Business Administration.
Source: Charles County Commissioners
RELATED INFORMATION:
Charles County Director of Emergency Services Out After 3 Months, May 8, 2008
http://somd.com/news/headlines/2008/7611.shtml