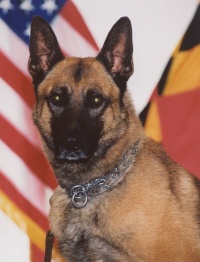 LEONARDTOWN, Md. (Nov. 7, 2008)—The St. Mary's County Sheriff's Office announced today the loss of K-9 Yanic. Yanic was diagnosed with cancer and euthanized on Thursday.
K-9 Yanic, a Belgium Malinois (pronounced Malinwa) was acquired by the St. Mary's County Sheriff's Office in 2004 from the Gaffney Police Department in South Carolina. K-9 Yanic served as a patrol and narcotics detection dog. He was partner to Corporal Edward Evans and Senior Deputy First Class Todd Fleenor.
Throughout his years of service, K-9 Yanic and his partners participated in numerous K-9 tracks, apprehensions, drug searches, demonstrations and community events.
Yanic and his partners are credited with several important apprehensions including: the apprehension of a subject on July 17, 2005 who assaulted two law enforcement officers in St. Mary's County, the track and apprehension of Paul Anthony Pitner who escaped from the St. Mary's County Detention Center on March 30, 2007, and the apprehension of a man who allegedly severely beat his girlfriend in their Lexington Park home in January of this year.
In 2004 and 2005 Cpl. Evans and K-9 Yanic participated and placed in the Annual Iron Dog Challenge which was sponsored by the Pennsylvania Police Work Dog Association.
The Iron Dog Challenge is a three mile course where each K-9 team must negotiate man-made and natural obstacles, demonstrate marksmanship, a K-9 carry and an officer rescue drag. The K-9 team must also demonstrate various police K-9 specialties such as criminal apprehension, narcotic detection, bomb detection, and/or a rescue find.
"The men and women of the St. Mary's County Sheriff's Office salute K-9 Yanic and thank him for his commitment to this agency and to the citizen's of St. Mary's County," was the closing statement in a press release announcing the death of the animal.