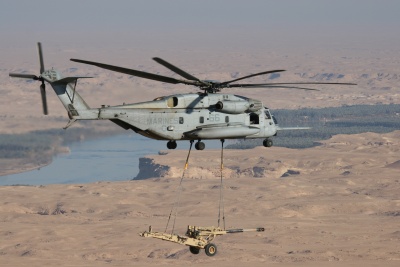 A CH-53E Super Stallion externally transporting a M198 Holwitzer. (Submitted photo)
PATUXENT RIVER, Md. (Nov. 4, 2008)—Planned upgrades to the CH-53D Sea Stallion and CH-53E Super Stallion engines will give pilots more power on hot temperature and high altitude flights, and Marine Heavy Lift squadrons the ability to carry more equipment, weapons, supplies and personnel further.
With a few engine upgrades already in test at Patuxent River Naval Air Station's Helicopter Test and Evaluation Squadron 21, fleet operators will soon have an increased payload capability due to increased power on the CH-53D and CH-53E engines.
"What we are doing is actually very simple. We're outfitting the Sea Stallion and Super Stallion's engines to run hotter which results in more power," said Stoney MacAdams, H-53 Assistant Deputy Program Manager. "More power equals heavier loads carried further which equals more options and supportability for our troops on the ground."
"The CH-53D and CH-53E new engine testing is proceeding along; with both aircraft having completed functional check flights and beginning engine specific performance testing," said Maj. Jack Perrin, H-53 Platform Coordinator for Helicopter Test and Evaluation Squadron 21, Patuxent River, Md. "These new engines for the 53D and E will surely improve the performance of the aircraft and assist the war fighter in completion of their mission in the global war on terror around the world."
The two General Electric T64-GE-413 turboshaft engines used on each CH-53D, which has been in-service since 1969 carrying much needed supplies, equipment and personnel from ships to inland battle zones, will receive an upgraded fuel control along other key improvements including erosion-resistant titanium nitride compressor airfoils and increased-durability hot section components.
"With the upgraded engine fuel control and other changes the T64-GE-413 engine will be transformed into the more powerful T64-GE-416 engine," said MacAdams.
The T64-GE-416 is currently used on the CH-53E Super Stallion, which has supported Marine Corps troops in Afghanistan and Iraq and continues supporting the global war on terror. The CH-53E's T64-GE-416 engines will also receive upgraded fuel controls, along with titanium nitride compressor airfoils and improved hot section components. The changes will turn T64-GE-416 engines into the more powerful T64-GE-419 engine.
"With the extra lifting power delivered from these upgraded engines, the Super Stallion will continue to deliver equipment and heavy weapons such as M198 howitzers and Humvees as well as perform troop insertions", said MacAdams.
The Navy's MH-53E Sea Dragon helicopter, a CH-53E derivative, already operates with three T64-GE-419 turboshaft engines for its primary mine countermeasures missions.
Source: Naval Air Systems Command (NAVAIR)