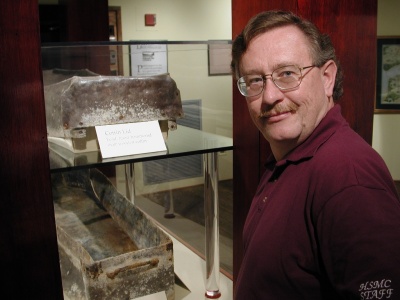 Historic St. Mary's City's director of research, Dr. Henry Miller, was recently granted the first Maryland Heritage Fellowship at Historic St. Mary's City (HSMC) (Submitted photo)
ST. MARY'S CITY, Md. (Oct. 28, 2008)—Historic St. Mary's City's director of research, Dr. Henry Miller, was recently granted the first Maryland Heritage Fellowship at Historic St. Mary's City (HSMC). The two-year fellowship will provide opportunities for Miller to work with the other Maryland Heritage Fellowship recipient, senior dean for the Centre for Medieval and Renaissance Studies' (CMRS) Dr. Nicholas Crowe, on projects that will strengthen the relationship between St. Mary's College of Maryland (SMCM), HSMC, and CMRS at Oxford University.
"St. Mary's City and early Maryland have strong links to Oxford," said Miller. "The first Lord Baltimore, George Calvert, was educated at Trinity College at Oxford, and his son, Cecil, graduated from the same institution. Their Oxford educations deeply influenced the intellectual formation of Maryland. This link persisted for the first Royal Governor of Maryland, Sir Lionel Copley, who was a graduate of Brasenose College at Oxford. Given these powerful connections, it is right that the relationship between Historic St. Mary's City, St. Mary's College of Maryland, and Oxford University be recognized, continued, and strengthened in the 21st century, with new and bold initiatives."
Miller is also an adjunct anthropology professor at SMCM, and has more than 30 years of experience as principal investigator for archaeological sites, including St. John's Freehold, Pope's Fort, the Jesuit Brick Chapel, and Governor Leonard Calvert's home. In 1990, Miller co-directed Project Lead Coffin, a major interdisciplinary investigation of three 17th-century lead coffins discovered at St. Mary's City. He has directed the reconstruction of 17th-century structures, including the 1660's brick chapel.
He received his Ph.D. in anthropology from Michigan State in 1984. He served as president of the international Society for Historical Archaeology, a member of the National Historic Landmarks Archaeology Review Committee, and is on the advisory boards of other museums including Historic Jamestown. His grants include awards from the National Endowment for the Humanities, the Institute of Museum Services, the American Academy of Forensic Sciences, and the Maryland Humanities Council.
Miller will teach and conduct research at CMRS on varied occasions during his two-year appointment. With Crowe, he will investigate Maryland's connections with Oxford and other areas of England, explore the Medieval and Renaissance aspects of the unique Maryland colony, and examine the origins of Calvert's innovative policy of "Liberty of Conscience." He will also help build stronger ties with archaeologists in the United Kingdom to aid the study of early Maryland sites and allow St. Mary's archaeology students to gain valuable experience during their semester abroad.
SMCM and CMRS have a long history of affiliation recently enhanced with the establishment of the John and Sandra Feneley Seminar in Oxford, designed to enable U.S. faculty who are interested in the liberal arts to attend seminars at the center. Similarly, SMCM and CMRS have developed an innovative program with the Washington Center in Washington, D.C., to provide an opportunity for U.S. students to gain experience in summer internships in Oxford.
The Maryland Heritage Fellowship complements the Maryland Heritage Project developed in 2000 by SMCM and HSMC. HSMC is the state museum responsible for preserving, studying, and interpreting Maryland's first capital. SMCM and HSMC were formally affiliated in 1997 by act of the Maryland General Assembly to preserve Maryland's first capital and promote the state's colonial history. It is supported by the State of Maryland with a $65 million award to provide enhanced facilities for undergraduate students and the general public to examine the roots of Maryland's past.
The historic links to England and to Oxford are important to understanding Maryland's earliest Colonial initiatives and the efforts which gave rise to the principles of state and federal government, as well as individual rights. The social, political, economic and intellectual framework of the early Maryland Colony is part of the doctrine taught by the faculty of CMRS.
HSMC was founded in 1966 to preserve the first city and tell the story of early Maryland. It is accredited by the American Association of Museums and is an internationally recognized museum of archaeology and history. HSMC sponsors one of the premier programs of historic site archaeological research in the Americas, established in 1970. In September, it opened the St. John's archaeology museum, a world-class exhibit in the heart of the college's campus.