By Guy Leonard, County Times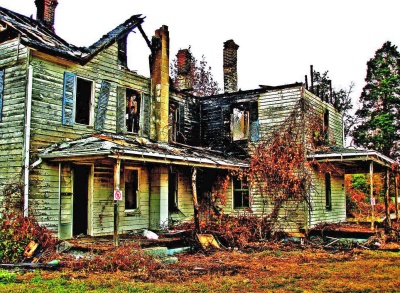 Maryland State Fire Marshals are asking the public's help in finding the suspect or suspects responsible for the second floor arson of this long-vacant Oakville home. (Photo: Guy Leonard)
HOLLYWOOD, Md. (Oct. 30, 2008)—A blaze that fire marshals say was intentionally set at a vacant Oakville home on Route 235 last week has local investigators calling for community help in solving the case.
Deputy Fire Marshal Duane Svites said Monday that the latest arson is part of a growing problem of fires targeting all kinds of unoccupied structures in Southern Maryland.
"The focus here is that property owners get rid of these things, if not from a crime prevention standpoint then from a safety standpoint," Svites told The County Times. "I don't know if it's a [growing] trend but it's a big problem."
Svites said there have been such fires in Hollywood, Ridge, Nanjemoy, Hughesville and Waldorf that are still under investigation.
The structures have included homes, barns, sheds and mobile homes, Svites said, and pose a significant challenge in finding the culprits.
"It's a difficult crime to link; it's a difficult crime to solve," Svites said. "That's the most difficult thing about arson, the evidence gets burned up."
Svites said fire marshals have not established definite links between the arsons that have plagued Southern Maryland.
Earlier in its reporting, The County Times learned that investigators were concerned that the most recent fires here in Oakville and Southern Maryland showed some similarities to a rash of fires that have been set over the past five years in Accokeek in Prince George's County.
The Bureau of Alcohol Tobacco Firearms and Explosives have taken the lead in the Accokeek investigation, but Svites and the lead arson investigation coordinator with the federal agency have said no direct links between the crimes have been found.
Fire investigators from the BATFE have already inspected the site for evidence after being asked to come down by the Maryland State Fire Marshal's office, but that was more for training purposes, Svites said.
The County Times was informed last week that there were fears that a copycat type arsonist might be committing the same kinds of crime here as in Prince George's.
Svites said, despite no evidence showing this to be the case, it was on investigators' minds.
"That's always a concern," Svites said. "Nothing's off the table, but it's not the direction our investigation is going right now.
Don Toll, BATFE agent in charge of arson investigations, reiterated that no direct links have been established between the Oakville, Southern Maryland and Accokeek fires.
"I don't see this as a link to anything," Toll told The County Times. "That connection remains to be made."
Despite an investigation that has lasted years, Toll said, there are still no suspects in the Accokeek arson cases.
"These fires are generally linked by location," Toll said. "We don't have a fingerprint on all these cases."
This is not the first time that the house located at the intersection of Route 235 and North Sandgates Road has been the target of arson either, according to local firefighters.
"This is probably the third time that I'm aware of," said Rob Albert, chief of the Hollywood Volunteer Fire Department. "It's something that's happened in the last several years."
Aside from arsons of vacant homes and other structures, Svites said, a growing trend has been towards owners intentionally setting fire to their vehicles.
"Vehicle arsons are through the roof," Svites said. "You've got all these people trying to get out from under these payments; there are so many the insurance companies have to deal with sometimes they just end up writing them off and a lot of times people get away with a crime free and easy."
Anyone with information regarding the Oakville arson, or any blazes intentionally set in Southern Maryland is asked to call the Maryland State Fire Marshal's regional office at 443-550-6820.
Callers do not have to give their names and are eligible for a cash reward.