Group has Performed at Lincoln Center and on National Public Radio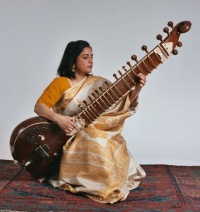 Shubha Sankaran (pictured) will perform perform classical Indian music at SMCM Wednesday night along with Brian Q. Silver.
ST. MARY'S CITY, Md. (Nov. 4, 2008)—Hear the distinctive and exotic sounds of the sitar at St. Mary's College of Maryland (SMCM) on Wednesday, Nov. 5, as the PanOrient Express, featuring Khansahib Brian Q. Silver (sitar) and Shubha Sankaran (surbahar), perform classical Indian music. The performance is at 8 p.m. in the Auerbach Auditorium of St. Mary's Hall on the college campus. It is free and open to the public.
Shubha and Brian have performed throughout the United States, including at Lincoln Center in New York, and in concert and in radio and television broadcasts in India, Pakistan, Bangladesh, Great Britain, Romania, Morocco, Egypt, Central and South America, and, most recently, the Peoples Republic of China in 2007.
Shubha Sankaran is the only woman actively performing the surbahar-an instrument related to the sitar, but with a deeper tone and a resonating chamber made of a dried pumpkin-on the global concert circuit, and the only artist focusing exclusively on that instrument. In 1994, 2000, and 2006, she was recognized for her surbahar performance by the D.C. Commission on the Arts and Humanities and the National Endowment for the Arts. She composed the music for the award-winning National Public Radio (NPR) series "Passages to India," and the award-winning 1997 BBC documentary, "Monsoon." She has also been featured on NPR's "All Things Considered," and currently has two CDs released on Surbahar Records.
Brian Q. Silver, after graduating from Harvard College in 1964, stayed in India from 1964 through 1966 under two Fulbright grants to learn sitar. In 1988 he was awarded the honorary title Khan Sahib by the All Pakistan Music Conference, and was given that organization's 1989 gold medal for performance. In 1991, 1996, and again in 2004, he was recognized for his sitar performance by the D.C. Commission on the Arts and Humanities and the National Endowment for the Arts. He earned his Ph.D. from the University of Chicago, and has taught Urdu language and literature, Indian music, and South Asian culture at several universities, including the University of Chicago and Harvard. After having served for 21 years as chief of the Voice of America's (VOA) Urdu Service in Washington, he is now VOA's ethnomusicologist and world music curator. In 1982 he founded International Music Associates, of which he is executive director.
The performance is sponsored by the SMCM Lecture and Fine Arts Committee and the Asian Studies Program.