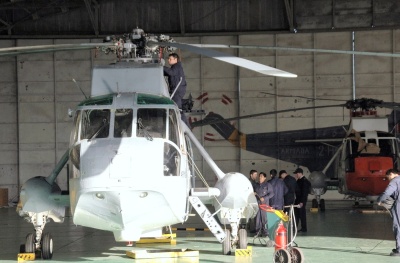 Armada Argentina maintainers conduct some maintenance checks on Sea King 241 and 240 (orange and white Sea King in background). (U.S. Navy photo)
NAVAL AIR SYSTEMS COMMAND, PATUXENT RIVER, Md. (Oct. 30, 2008)—A team from NAVAIR's Support and Commercial Derivative Aircraft Program Office is working hand-in-hand with the Armada Argentina (Argentine Navy) to deliver six UH-3H Sea King helicopters, four flyable versions and two for spare parts.
On April 11, 2007, the 390-foot long, Almirante Irizar, the Argentine Navy's flagship icebreaker, caught fire in the South Atlantic waters off Patagonia. The devastating fire damaged the ship, destroyed two Sea King helicopters and damaged a third so severely that it was not flyable.
"The Argentine Navy has more than 25 years of extensive flying experience with the Sea King," said Capt. James G. Wallace, Support and Commercial Derivative Aircraft Program Manager (PMA207). "After the fire on the Almirante Irizar, the Argentine Navy knew that we were retiring our Sea Kings so they came to us to find replacement helicopters. Right from the start, we were determined to work hand-in-hand with our Argentine Navy friends to make this program a success."
These aircraft are operated by the Second Naval Air Helicopter Squadron based at the "Comandante Espora" Naval Air Base. They participate in summer Antarctic campaigns, resupplying the Argentine bases and promoting scientific activity in the white continent.
"They are fundamental pillars in the national and international search and rescue system. Their capabilities are essential to safeguard human life in the wide maritime region under national and international jurisdiction", said Captain Juan C. Bazan, Deputy Chief of the Argentine Naval Commission. The Argentine Republic coverage area accounts for more than 14 million square kilometers, up to the 10 degrees West Longitude.
"The crews are specially trained and have performed innumerable rescues of passengers of ships in distress, frequently operating in adverse meteorological conditions in the icy waters of the South Atlantic. They are also employed, as needed, during natural catastrophes, humanitarian assistance, and in support of the community", Captain Bazan added.
"The program formally began in August 2007 when we formed our team. The initial paperwork was signed by the U.S. and Argentina and then we were off," said Randy Bridgeman, South American H-3 Program Manager (PMA207). "We and our Argentine teammates got on the road to evaluate two recently retired Sea Kings at Naval Air Station Pensacola, Fla., and then four more at the Aerospace Maintenance And Regeneration Group, "The Boneyard," located at Davis-Monthan Air Force Base near Tucson, Ariz. The Argentines pilots found the helicopters we examined would fit their requirements, which was a great start," added Bridgeman."
"Then the team went to Argentina to assess their infrastructure and capabilities and came away very impressed. Since the Argentine Navy are seasoned, experienced operators of the Sea King, they already had the majority of equipment needed to maintain them," said Bridgeman. "We wanted to make this program as economical for Argentina as possible so we worked with our Argentine Navy teammates to scrub the parts list, labor costs, the cost of the regeneration process, everything".
"The first two Sea Kings we picked up were just retired from a Navy squadron at NAS Pensacola," said Bridgeman. "U.S. Navy pilots flew the Sea Kings to Clayton International in Peachtree, Ga., where the helicopters were to be regenerated."
"The regeneration process began in February and was finished by May," added Bridgeman. "That was amazingly fast considering the amount of work that the team at Clayton International did and their work was outstanding. At the end of this process, those Sea Kings were in excellent shape. The Clayton team conducted all the required physical inspections, we performed the functional check flights and the Argentine pilots conducted the final acceptance flights."
"Now this is where things get interesting," said Chuck Morgan, the H-3 Assistant Program Manager for Logistics (PMA207). "This was a first for us, here we have two basically brand new Sea Kings, now we have to take them completely apart, box up the parts and pieces, seal and protect the body of the helicopter, load everything on trucks and get them to the port in Houston, Texas. Once at the port, we have to have the two helicopters and all their parts loaded into the hold of a commercial freighter for the trip to Argentina and everything went according to plan. This was the first time the Navy and Clayton International acted as a freight forwarder for the Sea King helicopter."
"The teaming aspect between Clayton and the program office was unprecedented," said Bill McBride, H-3 Program Manager, Clayton International. "The Argentine program has been a stepping stone for us. This teaming effort is moving us towards becoming the center of excellence for the Sea King helicopter. This program has created a one stop shop for getting the spare parts, the support equipment and the training set up for the Argentine Navy."
"This could be the way that FMS moves toward in the future," said Bridgeman. "Getting the engineering, training, parts support all under one roof has made our lives that much easier and will result in a better program for Argentina."
"The two Sea Kings arrived safely in Argentina in late August," added Morgan. "In another first for us, an expanded team went back to Argentina in early September to assist in reassembling the two helicopters. Clayton International and Computer Science Corporation (CSC) are providing additional training on this particular version of the Sea King to get them flying again as soon as possible. We want to make sure our Argentine Navy partners are completely happy with their helicopters. The plan is to get them fully operational by October so they can be used for flights in and around Antarctica."
"I can't say enough about the team from Clayton International. Their experience, knowledge and their willingness to help in any way have really helped this program," added Bridgeman. "Both helicopters have been reassembled but we found some mechanical issues. The team used these mechanical issues as a training tool for the Argentine maintainers. What better way to reinforce training than taking the classroom training you just learned and use that knowledge right away to diagnose and repair these helicopters."
"After the repairs were completed, the first helicopter was ready for its first flight. It was the squadron commander, Cdr. Marcello Valverde and the squadron executive officer, Cdr. Marcello Caso, who were the first to fly aircraft 241," said Bridgeman. "240 flew a few days later and the functional check flights for both Sea Kings were complete."
"Capt. Wallace was able to join us in country for a few days of meetings with our Argentine Navy counterparts," added Bridgeman.
In a gathering for the entire Sea King team (U.S. Navy, Argentine Navy, civilians from Clayton International and CSC); Wallace told them, "My job is to make this program succeed. My meetings and squadron tours only reinforced my first impressions of the Argentine Navy; you are motivated, professional and enthusiastic. We are here to establish relationships between our two countries and our two Navies. Communication and understanding are key to making this program succeed. Seeing how skilled you are when it comes to flying and maintaining these helicopters make my job easier."
"The next phase of the program is to get the four Sea Kings from AMARG ready to go," added Morgan. "They have been moved to the Pima Airport and should be ready for shipment to Clayton International later this month. The two flyable Sea Kings will be regenerated and the other two spare parts helicopters will stay there until all four are disassembled for shipment to Argentina. All four Sea Kings should be in country by March 2009."
Source: NAVAL AIR SYSTEMS COMMAND, PATUXENT RIVER, Md.