Only College in State with No Classes on Nov. 4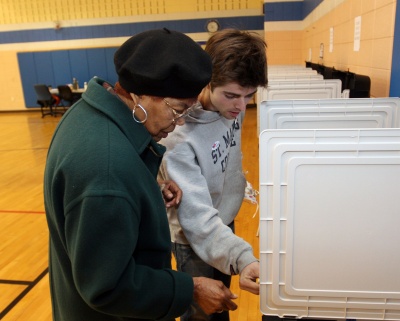 Sam Birnbaum, a St. Mary's College of Maryland senior and St. Mary's Votes! organizer, assisted Elizabeth Swales of Hollywood at the Leonardtown High School polling station during the presidential primaries and will help voters there again on Nov. 4. (Photo: James A. Parcell)
ST. MARY'S CITY, Md. (Oct. 29, 2008)—School's out at St. Mary's College of Maryland (SMCM) for the 2008 presidential election on Tuesday, Nov. 4. St. Mary's College is the only public college in Maryland to schedule an Advising Day on Election Day so that students have more time to get to the polls and participate in the presidential election. Students from SMCM will be working the polls in St. Mary's County and driving to their home towns to cast their votes.
St. Mary's Votes!, a student club at SMCM, has worked to register almost 300 new voters, ensuring a strong student voter turnout. The team set up voter registration booths in the Campus Center, at local grocery stores, and participated in numerous events across campus to enlist votes for this year's election. Members of the team will work as election judges and poll workers at local voting precincts.
"I'm extremely proud of what we've done with St. Mary's Votes! this year," said Sam Birnbaum ('09), one of the organization's student leaders. "The overall feeling around St. Mary's is much more political than it has been in the past, and I like to think that we have played a direct role in promoting that. Students understand that the outcome of this election, in particular, will radically shape their futures. I believe that this is the year when young people will finally emerge as a legitimate voting block, and will begin to shape the national debate over higher education and energy issues."
The college planned Advising Day, when students talk with their advisers about the upcoming semester, to coincide with Election Day as part of a new proposal that was generated by SMCM political science professor, Dr. Michael Cain, director of the Center for the Study of Democracy. "My former student Jeff Taylor and I worked on this proposal for his senior thesis project. We found that students have many different barriers to participating in elections." The goal is to improve the political involvement among college students by registering them to vote and training them to work at the polls on Election Day.
Cain applauds the efforts of SMCM President Jane M. O'Brien and Provost Larry Vote in removing the main barrier to student participation in elections. "I think that placing Advising Day on Election Day is a huge step in the right direction. This will allow students to vote, become poll workers and ultimately become more active in our political system. President O'Brien and the Board of Trustees recognize the importance of removing barriers to students for participating in the political life of our state. Political scientists have found that when young people vote, they pick up the habit for a lifetime."
Fifteen students are working with "St. Mary's Votes!." Under the leadership of Birnbaum and Jen Yogi ('09), the group has submitted 226 absentee ballot requests and 59 new voter applications on behalf of students this semester. The group has also organized events designed to increase awareness of the election on campus, including debate-watching parties, each of which were attended by more than 100 people, and a "Rock the Vote" student concert.
Earlier this year, the St. Mary's Votes! team worked to register some 200 students for the presidential primary. In addition, the St. Mary's County Board of Elections trained ten students from St. Mary's Votes! to work during the primaries.
St. Mary's Votes! is non-partisan. Its executive board includes leaders from the school's College Democrats, College Republicans, environmental action group, and Student Government Association. On election day, these students will work together to staff a shuttle service to the local polling station. Many students will work as election judges in various Maryland precincts.