International Company to Anchor $68 Million Development That Will Bring Over 1,500 Tech Jobs to County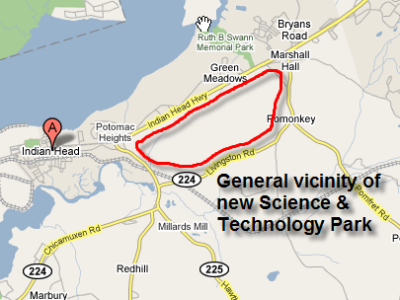 Map show general vicinity of a proposed business park on approximately 260 acres between Maryland Route 210 (Indian Head Highway), Route 227, and Route 224. (Courtesy Google Maps)
LA PLATA, Md. (Oct. 28, 2008) - The Charles County Commissioners are expected to formally announce today that the British manufacturer Martin-Baker has given their intent to build a new facility in the county. In addition to the Martin-Baker announcement, the Commissioners will also unveil an additional multi-million dollar public/private partnership deal that will further develop the Indian Head Science and Technology Park.
The announcement will be made at the Waldorf Jaycees Community Center, 3090 Crain Highway in Waldorf, beginning at 1:30 p.m. Martin-Baker, the world's longest established and most experienced manufacturer of ejection seats and related equipment will locate in the planned Indian Head Science and Technology Park in Bryans Road. Martin-Baker will be the first tenant in the tech park.
Headquartered in Denham, England, Martin-Baker has established an extensive range of unique and modern facilities and specialized engineering capabilities to support ejection seat work and ensure that these products are of the highest quality and reliability. The company recently received the "Queen's Award" for its commitment to environmental issues.
Andrew Martin, the company's Head of Business Development is scheduled to be on hand to answer questions regarding the company's investment in Charles County. Mr. Martin is the grandson of the company's founder, Sir James Martin.
The private entity in the Indian Head Science and Technology Park agreement is a joint venture between Corporate Office Properties Trust (COPT) of Columbia, Maryland, and the Facchina Companies of La Plata. Working with the county, the partners will develop a business park on approximately 260 acres between Maryland Route 210 (Indian Head Highway), Route 227, and Route 224. The park will be adjacent to the Maryland Airport, a privately owned general aviation facility which had received approvals for run way and other facilities improvements.
Dignitaries and special guests who are expected to be in attendance include David Edgerley, Secretary of the Maryland Department of Business, the Board of Charles County Commissioners, Andrew Martin of Martin-Baker, and representatives from COPT and the Facchina Companies.
Source: Charles County Board of Commissioners