By Andrea Shiell, County Times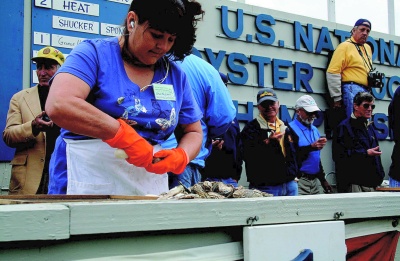 Lisa Bellamy tears into her allotment of Oysters during a heat in the U.S. National Oyster Shucking Championship Contest held during the Forty-second Annual Oyster Festival in Leonardtown. (Photo: Andrea Shiell)
LEONARDTOWN, Md. (Oct. 23, 2008)—There was a chilly bite to the air and a touch of gray in the sky, but sweet, delicious smells warmed the air as residents and visitors from all over the country flocked to the fairgrounds near Leonardtown for one of the county's most beloved yearly events: the St. Mary's County Oyster Festival.
Described as an event that could turn any corner of the fairgrounds into a virtual nirvana for lovers of the famed mollusks, this year's event combined festive fall themes with the Rotary Club's standard slogan, "oysters any way you like 'em."Indeed, visitors could enjoy oysters any way they preferred, steamed, grilled, raw, fried, or scalded, and in salads, stews, or sandwiches. Also available were other seafood favorites like scallops, clams, shrimp, and crab. For those who wanted to avoid seafood, there were also hot dogs, hamburgers, polish and Italian sausage, and Southern Maryland stuffed ham.
Nine finalists competed in this year's National Oyster Cook-Off, with recipes chosen from nearly 150 entries submitted by contestants from all over the country. The 2008 Main Dish category was "Manicotti Stuffed with Oysters in Lemon Caper Cream Sauce", "Burrito-Style Ostiones Fritas" and "Oyster Pita Sandwiches with Lemon Tahini Sauce".
In conjunction with the National Oyster Cook-off Contest, oyster-cooking demonstrations were held at the festival. On Saturday, Chef Rick Toth, local chef extraordinaire, prepared Southern Maryland oyster treats, and Sunday's cooking demonstrations highlighted several talented and creative chefs as they prepared their favorite oyster dishes.
The U.S. National Oyster Shucking Championship Contest, held both days, once again featured the fastest male and female shuckers from around the country as well as the fastest local tidewater shuckers competing for cash prizes totaling $1,800 and a trip to Galway, Ireland to compete for the International Oyster Opening title.
Contestants were given 24 oysters, and like most competitions, speed was but one crucial element; the U.S. Oyster Shucking Championships requires aesthetic presentation as well, and time penalties are added for broken shells, cut oysters and blood.
U.S. National Oyster Shucking Champ, William "Chopper" Young, from Wellfleet Mass. was there to defend his crown. Young recently returned from the International Competition in Ireland where he placed first in the International Championship and was crowned World Champ. Shucking champions began their competition Saturday with several heats held for both men and women contestants.
Also on this year's menu were performances by Reggie Rice, "Super Magic Man," who was voted DC's Comedy Magician of the Year two times, the St. Mary's College of Maryland Combo and Jazz Band, rock band Bellman Barker, and the Southern Mix Barbershop Chorus. Pony rides and carnival rides were also available.
The idea for the oyster festival started in 1967 when the Lexington Park Rotary Club was looking for a project in which the entire club could involve itself for the good of all. The festival was crafted to promote fun, food, and fellowship in this area's rural atmosphere, promote local trade and quality of life in the county, and provide funds to benefit local charities.
Starting from a one-day event with fewer than a thousand visitors in its first year, the idea grew, and in 1974 it became a two-day event moving from the second weekend in October to the third weekend in October where it remains today, distinguishing itself as one of the Eastern Seaboard's leading folk festivals.