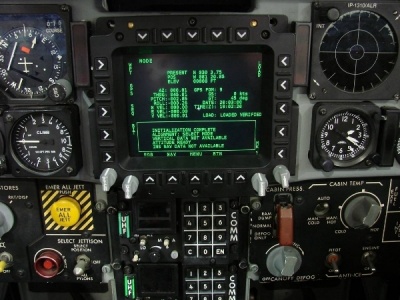 The cockpit display for the F-5N's new LN-260 Inertial Navigation System. (Photo: U.S. Navy)
NAVAL AIR SYSTEMS COMMAND, PATUXENT RIVER, Md. (Oct. 26, 2008)—NAVAIR's Support and Commercial Derivative Aircraft program office is upgrading the Navy's F-5N Adversary aircraft with new avionics to save the Navy an estimated $20 million in future costs.
"The current inertial navigation system (INS) was becoming too old and costly to repair so a new system was found," said Jay Bolles, Adversary Integrated Product Team lead. "The cost to repair the older INS and buying a new, more capable system was about the same so the decision was made to go with the newer, more reliable system."
"The funding for the entire $6.1 million upgrade program was split between the U.S. Navy Reserve, which fly the F-5Ns, and the Support and Commercial Derivative Aircraft program office," said Bolles.
"This is a textbook example of how a program should be run," said Capt. James Wallace, Support and Commercial Derivative Aircraft program manager. "Our Adversary team did it right. They worked with the Navy Reserve F-5N squadrons and Northrop-Grumman, to determine the most cost effective solution to this obsolescence challenge. Then they got to work and made it happen."
The LN-260 INS unit is produced by Northrop-Grumman in Woodland Hills, Calif. The cockpit display is produced by Interface, Display and Controls, of Oceanside, Calif. The LN-260 is also used on the U.S. Air Force F-16 Fighting Falcon aircraft. The new INS and new display bring a multi-function touch screen capability, a radar display, INS functions, embedded Global Positioning System (GPS) and a new fiber optic gyro. The new INS is incredibly reliable with an estimated 5,000 hours of flying time between possible failures. Due to limited space in the F-5N's cockpit, a smaller display was needed.
Forty-four of the new systems, plus spares, will be bought for the upgrade program. The installation work will be done at Northrop-Grumman's facility in St. Augustine, Fla. Five F-5N's are still in production, and will have the new INS installed during the conversion process.
The remaining F-5Ns will have the new INS installed as a drive through modification, or when they return to the St. Augustine depot for inspections and repairs. The installation consists of swapping out the old INS box with the new LN-260 box, removing old wiring and installing the new wiring. Approximately four F-5Ns per month will upgraded, with the work taking one week to do.
Source: Naval Air Systems Command, Patuxent River, Md.