By Guy Leonard, County Times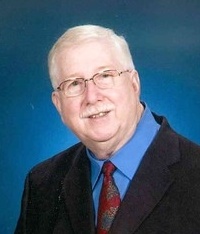 Carl "Buddy" Loffler, a former St. Mary's County commissioner president, passed on Monday, Oct. 20.
HOLLYWOOD, Md. (Oct. 23, 2008)—Family members and county officials who served with him are mourning the loss of Carl M. "Buddy" Loffler, a former county commissioner president.
He died Monday, Oct. 20, at his residence. He was 66 and had battled cancer in his final days, his sister said.
"He'd been sick for several years," Louise Dean told The County Times Tuesday.
Loffler served as commissioner for four years after taking office in 1990 and he was always active in one venture or another, Dean said.
"He was always involved in different activities; he was a wheeler and dealer," Dean said of her brother, who had sought ways to get ahead since he was very young. "He always wanted to find ways to make money, he would raise guinea pigs and sell vegetables from his vegetable garden."
During high school Loffler even formed a rock and roll band in the late 1950's and even made it onto a television program to showcase their talent. The band, which cut one album, was called Kenny Kenton and the Kats, Dean said.
Dean said her family moved from Oxon Hill in Prince George's County to St. Mary's in 1959.
Loffler's father was active in the construction trade here and again invested in it when the family moved here, she said.
Eventually, her brother went into business at Loffler Construction and took over the business. Loffler also operated Loffler Marine, she said.
Loffler also received an appointment to the Maryland Department of Agriculture under the administration of Gov. Robert L. Ehrlich.
"He was just a very community minded person," his wife Jean Loffler said. "He felt he could make a difference at the local level.
"He enjoyed helping people."
His daughter Diana Lynn Baumann, said her father loved the county.
"St. Mary's County meant a lot to him," she said. "It became a better place because of him.
"He looked at the glass half full rather than half empty."
Loffler carried over his tenacity and energy to the political realm as well, where he made friends with officials from the other side of the political fence. Loffler was a Republican.
"We didn't see eye to eye politically," said William Edward Bailey, who served on the commissioner board with Loffler. "But we got a lot done in four years.
"Other than politics we were good friends."
Bailey said that he and Loffler would engage in debates over issues that were often magnified by the local media and sometimes when it came to a vote neither man liked the prospect of losing.
"I didn't dwell on the issues after the vote," Bailey said. "But Buddy took some of those things to heart; he didn't like to lose but neither did I."
Still, Loffler was still affable enough, Bailey said.
"His family was real nice and so was he," Bailey said. "He didn't stay angry long."
Robert Jarboe, another democrat who served with Loffler, said that while some politicians might let a lost vote on an issue go, Loffler would often not.
"If he lost and it was important to him he'd find a way to bring it back at a later date or he'd bring it up at a public forum to bring pressure to bear," Jarboe said.
One issue in particular Loffler and Jarboe dealt with was that of impact fees for construction.
Jarboe said that Loffler favored a flat impact fee for developers while other commissioners wanted a fee that increased with the size of the building.
"He won that battle," Jarboe said. "The majority of the commissioners voted for that proposal."
More than the issues and the debates over policy, Bailey said, he remembered the strain that serving the community could sometimes take on both he and Loffler.
"Both our businesses suffered from us spending too much time and the commissioners," Bailey, who runs the Old Breton Inn in Leonardtown, said.
Loffler is survived by his wife Barbara Jean Loffler, daughters Diana Lynn Baumann and Laura Loffler Fitchett and several grandchildren.
Services for Loffler will be held Saturday at Hollywood United Methodist Church at 10 a.m., Loffler will be buried at Joy Chapel Cemetery.
RELATED INFORMATION:
Obituary for Carl M. "Buddy" Loffler, Jr.
http://somd.com/announcements/obits/report.php?rec=1693