By JENN BOGDAN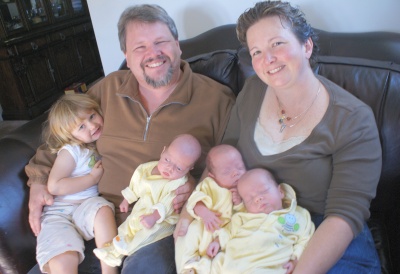 Dave and Lori Titus proudly display their newly expanded family. From left, Rowan Titus, Arthur Titus, Brannon Titus and Charles Titus rest comfortably in their parents' arms. (Photo: Jenn Bogdan, Capital News Service)
MOUNT AIRY (Oct. 26, 2008)—When Lori and Dave Titus learned they were expecting naturally-conceived identical triplets last March, they wondered how they would meet what they thought was their challenge of a lifetime.
Three months later, the Tituses had more important things on their minds. Their triplets had developed a rare and often fatal condition known as twin-to-twin transfusion syndrome, and Lori Titus could not get health insurance.
Twin-to-twin transfusion syndrome is a condition affecting pregnancies of identical multiples. The syndrome can develop when the fetuses receive an unequal supply of blood and nutrients from the mother, leaving one baby overloaded with supplies and the other malnourished.
In the Tituses' case, one baby was unaffected, while the other two were struggling. Left untreated, there was a more than 70 percent chance both babies would die.
"I went from having a nice, healthy, normal pregnancy to almost overnight finding out that my babies could have major brain and heart problems and that I might lose them in the process of trying to save them," said 38-year-old Lori Titus. "I was completely in tears."
The condition the triplets developed occurs in about 10 percent of identical twins, but the same data for identical triplets is thin.
"Identical triplets with twin-to-twin transfusion syndrome are exceedingly rare. I know of maybe four or five other people who have worked with cases worldwide," said Dr. Ahmet Baschat, a fetal medicine specialist at the University of Maryland Medical Center who treated Lori Titus. "The chance that this happens must be in the region of 1 in 15,000."
The Tituses, who already have a 3-year-old daughter and had not planned on having more than two children, were given three options. They could either let nature take its course, opt for a procedure to simply ease the discomfort of the pregnancy, or try a risky surgery that had the potential to save their children but could also terminate the pregnancy.
The surgery, known as laser coagulation, isolates and seals off the blood vessels where the imbalanced blood volume sharing occurs between the fetuses. While the surgery provides the best overall chance of survival, there was still a 50 percent chance both babies wouldn't survive the procedure.
Five days later Lori Titus was ready for surgery.
The couple said the choice was obvious because while the numbers were grim, it still gave their children the best chance of survival.
But calling the choice obvious seems more extraordinary when considering the Tituses had no idea what the surgery cost or how they were going to pay for it since Lori Titus couldn't get health coverage. Doctors at the hospital estimated the total cost for this type of pregnancy would be around $150,000 out of pocket.
In 2006, Lori Titus quit her day job after her husband had a stroke while she was pregnant with their daughter. She obtained COBRA, a limited extended insurance option, but the coverage ran out in April, mid-pregnancy.
When she went to apply for private coverage, she was repeatedly turned down.
She then applied for the Maryland State Health Insurance Program, but was turned down because her income was too high. The couple's income now comes entirely from their home-run beekeeping business in Mount Airy.
Lori Titus said the program was considering her total revenue and not just her profits.
She asked the program to take another look at her application but went ahead with the surgery as planned, taking the hospital's word that they would work out a payment plan with her if needed.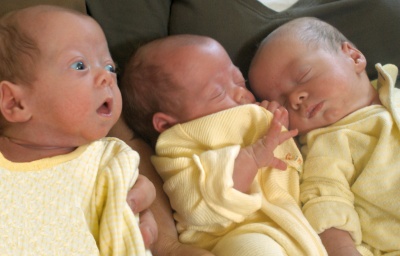 Arthur Titus, Brannon Titus and Charles Titus came home to Mount Airy in September. The triplets survived a rare and often fatal condition affecting their blood supply during pregnancy. (Photo: Jenn Bogdan, Capital News Service)
"They really encourage people to do what they feel is right and worry about the money later, which I believe is the right thing to do, but at the same time it's still very frustrating," said Lori Titus. "I knew that I was racking up a bill with the hospital that's the price of a house."
The Tituses were ecstatic when all three babies survived the surgery, but Baschat, their surgeon, reminded them to think only in small victories.
"I've done this for a long time, and there are stories that are heartbreaking," said Baschat. "We always say, don't thank us before you hear the babies scream."
Three months later, at three months premature and just one week after she was cleared for state health insurance, Arthur, Brannon and Charles Titus were born. Charles needed to be resuscitated at birth and received a blood transfusion, but by all other accounts the triplets did exceedingly well.
In September the triplets came home. While they need to be closely monitored for developmental problems, the daily challenges for the Tituses now are daunting in a different way.
Diapers for the triplets run $300 monthly, and there's always the possibility of mistaken identity, forcing the parents to keep the babies arranged in alphabetical order—Arthur, Brannon and Charles.
"A couple of weeks ago we flipped the order we keep them in, and we switched them up," said Dave Titus. "Lori had the hospital footprints out to match up which one was which."
Capital News Service contributed to this report.