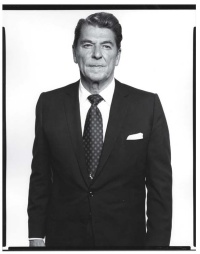 Ronald Reagan, former Governor of California, March 4, 1976. Courtesy of the Richard Avedon Foundation, 2008. (Photo: Richard Avedon)
ST. MARY'S CITY, Md. (Oct. 26, 2008)—Discover the life and works of one of America's finest photographers, Richard Avedon (1923-2004). Photograph curators Paul Roth and Frank Goodyear will present the Steve Szabo Symposium lecture, "Richard Avedon - The Family Photographs and Insights into Power," Thursday, Oct. 30, at 4:30 p.m. in Cole Cinema (at the Campus Center) at St. Mary's College of Maryland (SMCM). The lecture is free and open to the public.
The lecture will explore Avedon's groundbreaking 1976 portrait series, "The Family," commissioned by Rolling Stone magazine, which depicts 69 representatives of the American political, military, media, and corporate elite. The event is co-sponsored by the Szabo Symposium for Emerging Issues in Photography, the Center for the Study of Democracy, Lecture and Fine Arts, and the St. Mary's College of Maryland Art and Art History Department.
Throughout Avedon's eclectic photography career, he photographed for Harper's Bazaar, Vogue, and The New Yorker, as well as for the Civil Rights movement in 1963 and during the Vietnam War in 1970. A distinguished fashion photographer and editorial portraitist, Avedon served in the Merchant Marines during World War II, where he was assigned to the photography unit and learned his trade making identification portraits. After the war, he found work as a photographer for Harper's Bazaar, where he began an apprenticeship with legendary editor, designer, and artist Alexey Brodovitch.
Avedon challenged the conservative fashion photography of the time with his imaginative scenes and dramatic style. For portraits, Avedon photographed his subjects against a plain white background to focus on the unique character and personality of the person, without the distraction of place. He produced numerous books, and exhibited throughout the U.S. The Richard Avedon Foundation was established in New York City after his death in 2004.
Roth is curator of photography and media arts at the Corcoran Gallery of Art in Washington. He previously held curatorial positions at the National Gallery of Art and the Center for Creative Photography in Tucson, Arizona. Goodyear is assistant curator of photographs at the Smithsonian's National Portrait Gallery and an affiliated faculty member in the American studies department at George Washington University.
The Steve Szabo Symposium for Emerging Issues in Photography was established by SMCM in 2007. It is dedicated to supporting lectures and events that promote the use of wet-darkroom and digital-darkroom photography. Szabo was a Maryland photographer, teacher at the Corcoran School of Art, and photojournalist for The Washington Post.