Commissioners Honor Dr. Chinnadurai Devadason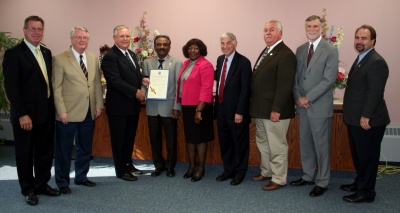 The Charles County Commissioners, State Senator Thomas "Mac" Middleton, Maryland Delegates Murray Levy and Peter Murphy, and County Administrator Paul W. Comfort, Esq. present Dr. Chinnadurai Devadason a proclamation for his outstanding service as the Health Officer of Charles and Queen Anne Counties.
The Charles County Commissioners joined State Senator Thomas "Mac" Middleton and Maryland Delegates Murray Levy and Peter Murphy to honor Dr. Chinnadurai Devadason for his outstanding service as the Health Officer of Charles and Queen Anne Counties.
Devadason was recently awarded the presitigous Henry P. and M. Page Laughlin Distinguished Public Officer Award by The Maryland State Medical Society.
The award is given to a single member in the health field who has made significant contributions and innovations to medicine in the state of Maryland.
"I had the honor of hiring Dr. Devadason when I was Commissioner, said Delegate Levy. "I'm glad he's still with us, and I'm glad he continues to do great work."
Commissioner President Wayne Cooper said that "all of Charles County appreciates Dr. Devadason's commitment to protect, promote, and assure the health of the Charles County community and its citizens."
Devadason noted that he was proud of his work in both counties, and that he loves his work. "It gives me great joy to work for the betterment of health for all of Maryland," he added.
Commissioners Honor Michael "Mike" Moses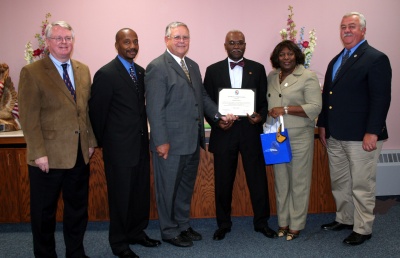 On behalf of the citizens of Charles County, the Commissioners recently honored business leader Michael Moses for his efforts in creating business opportunities for African Americans, women and other minorities living in the area. Moses was instrumental in the creation of the Minority Business Advocacy Council, which sought to increase the number of contracts (to minorities) that are awarded by County Government.
VanGO Rolls in New Directions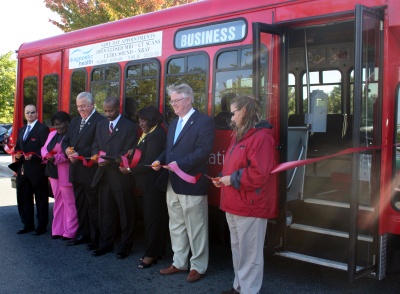 The Charles County Commissioners celebrated the opening of a new VanGO business loop and the revision of several existing VanGO routes at a recent ribbon cutting ceremony. Transportation Chief Lisa Quill, Transportation Development Administrator Rob Romero, and MV General Manager Arlette Whitley, helped the Commissioners cut a ceremonial ribbon at the Route 301 and Smallwood Drive park and ride lot in Waldorf. The service changes went into effect for VanGO riders on Monday, October 6.
Newburg Accident Causes Oil Spill
The Department of Emergency Services advised that a dump truck overturned during a single vehicle accident at 9:56 a.m. on Oct. 9 at 10200 Faulkner Road in Newburg, near Mirant's Morgantown Generating Plant. Fire and EMS units from Newburg and Bel Alton responded to the scene, along with the Charles County Tactical Response Team.
As a result of the overturned dump truck, approximately 10 gallons of motor oil spilled from the vehicle. None of the spilled material entered into any ditches, drains, or waterways. The oil spill has been contained and emergency responders are in the process of cleaning up the area.
The dump truck was hauling Sodium Carbonate, Anhydrous, a substance commonly known as "Soda Ash." Soda Ash is a fairly stable, white, granular powder that is not flammable, combustible, explosive, or immediately dangerous to life and health or the environment. Soda Ash is an alkaline that reacts with strong acids releasing volumes of CO2 gas and heat. Soda Ash can irritate exposed skin or eyes, and cause respiratory irritation if inhaled and digestive discomfort if ingested. None of the Soda Ash was spilled.