Commissioners Celebrate Opening of New Road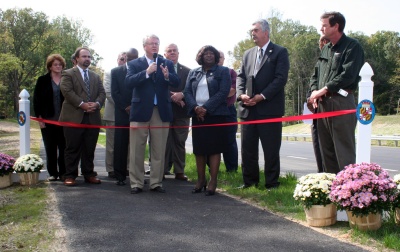 Commissioner Gary V. Hodge, surrounded by Commissioners Reuben B. Collins, II, Samuel N. Graves, Jr., and Edith J. Patterson, speaks about the benefits of traveling on the improved Middletown Road. County Administrator Paul Comfort, Charles County Government staff, and representatives from contracting companies that worked on the Middletown Road Phases 1B1, 1B2, and 2 projects, also participated in the ribbon-cutting event. (Photo: Crystal Hill)
The Charles County Commissioners and employees of the County's Department of Planning & Growth Management joined with representatives of several regional engineering and design firms, to celebrate the opening of the Middletown Road Projects (Phases 1B1, 1B2, and 2).
The completed project consists of the construction of a four-lane divided arterial highway with a 10-foot wide hiker/biker lane that runs alongside the approximately 2.7 miles of the new alignment.
The $17.6 million project provides a new thoroughfare that connects Berry Road (MD Route 228), to the recently improved Billingsley Road intersection.
In addition, approximately 1,900 linear feet of roadway was constructed as part of Billingsley Road. It originates at the intersection of Billingsley and Middletown Roads heading east.
"This new phase provides an alternate North-South road that will relieve traffic congestion in and around Waldorf, including Route 301," said Commissioner Reuben B. Collins, II (District 3). "The road will further ease the flow of traffic around the County, and it provides a wonderful setting for the walker, runner or bike enthusiast."
Engineering and construction contractors that worked on the Middletown Projects include: Whitney, Bailey, Cox & Magnani. LLC; Wallace, Montgomery & Associates; Loiederman-Soltesz, Inc.; Pessoa Construction; Reliable Contracting Company; and Cherry Hill Construction, Inc.
SAIC Brings Office and Opportunity to Charles County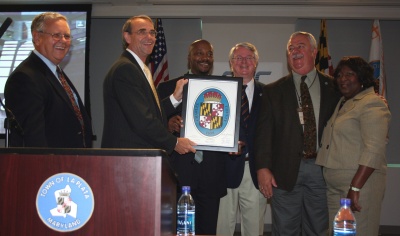 The Charles County Commissioners present a County Seal to Thomas G. Baybrook, SAIC Senior Vice President & General Manager, Defense Maritime Solutions Business Unit, in recognition of the company opening its newest office in La Plata.
Businesses located in downtown La Plata have a high-profile neighbor moving in. Science Applications International Corporation (SAIC), a global scientific, engineering, and technology applications Fortune 500® company that employs roughly 44,000 people worldwide, now occupies two floors of the newly constructed Howard Street office building, built by the Facchina Group of Companies, LLC.
"As a Board of Commissioners, we have continually made a commitment to bring high paying jobs to Charles County. Charles County is now a destination for companies like SAIC, from both the national and global markets, that are giving our citizens the opportunities they so richly deserve, " said Commissioner President Wayne Cooper.
SAIC serves customers in the Department of Defense, the intelligence community, the U.S. Department of Homeland Security, other U.S. Government civil agencies and selected commercial markets. Their office in Charles County joins more than 150 offices SAIC operates around the world.
The Commissioners officially welcomed SAIC to their Charles County home at a recent building dedication ceremony for 113 Howard Street, located off of Centennial Street and St. Mary's Avenue in La Plata. Port Tobacco Consulting, LLC, will also occupy space in the building, on the 3rd floor.
"Today is a great day for the people of Charles County," said Cooper at the dedication ceremony. "SAIC brings with them nearly 40 years of experience in business and will provide our residents with the opportunities that they have been seeking. We look forward to a long and lasting relationship with SAIC."
Commissioners Join CSM in Building Dedication to Francis P. Chiaramonte, M.D.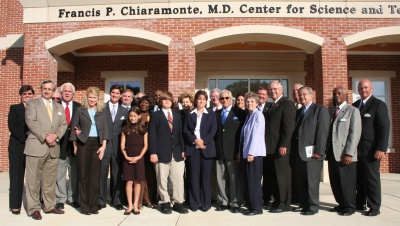 Dr. Chiaramonte (front, sixth from right) stands with the Charles County Commissioners, CSM President Bradley Gottfried, his family, and supporters in front of the building on CSM's La Plata campus that is dedicated in his honor. (Photo: George Clarkson)
The Charles County Commissioners recently joined with the faculty and staff of the College of Southern Maryland (CSM) at the dedication of the Francis P. Chiaramonte Center for Science & Technology Building on CSM's (La Plata) Campus.
Chiaramonte, who recently donated $1 million to CSM is President and Founder of the Southern Maryland Hospital Center (SMHC), a full-service acute care facility that provides state-of-the-art technology and care for all ages. The noted physician has been a major thread in the fabric of proper health care services in Southern Maryland for over 40 years.
"Health care and education are the pillars of our community's well-being and I have, therefore, dedicated my life to those values." said Chiaramonte. "I am pleased to help the College of Southern Maryland fulfill its vital mission of educating our future workforce."