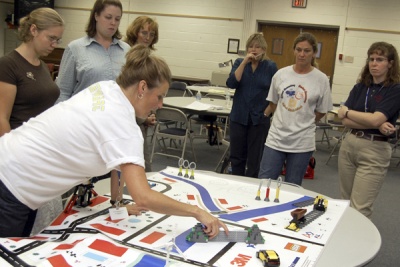 Elementary and middle school teachers watch as Karin Stewart, STEM teacher specialist for Calvert County, explains the Robotics Challenge course and how it will be used in competition. In addition to programming their Lego robot to complete tasks as it moves around the course, students will be judged on how well they work as a team. (Submitted photo)
LA PLATA, Md. (Oct. 21, 2008)—The College of Southern Maryland is partnering with Dominion Cove Point LNG to provide support for 20 local elementary and middle schools to participate in a robotics competition at CSM in February.
The program, developed to promote Science, Technology, Engineering, and Mathematics (STEM) fields to students ages 9 to 14 in elementary and middle schools, requires teams to complete a research project and to research, build, test and program a robot that will race against others in performing specific tasks.
"We have been overwhelmed by the enthusiastic response from schools wanting to participate in this year's competition," said Jeff Tjiputra, chair of CSM's business and technology division. "The competition not only allows students to have fun working in teams with the LEGO kits but it also exposes elementary and middle school students to hands-on engineering projects. This robotics challenge can spark an interest in science that can carry through to high school and beyond."
The program is funded through a competitive grant from Dominion that awarded CSM as one of 60 recipients in eight states from a pool of 400 applicants last May. Dominion is the parent company of Dominion Cove Point LNG located on the Chesapeake Bay in Cove Point. It is one of the nation's largest liquefied natural gas (LNG) import facilities.
The funding for CSM's program was the highest awarded, according to Cindy Balderson of the Volunteer and Education Partnership at Dominion Energy. "We know that FIRST Robotics is a well-respected program and that CSM will reach out to a lot of students. We are proud to be a sponsor of this program and excited for the students."
This year's competition will include teams from Barstow, Calvert, Sunderland, Dowell and Mt. Harmony elementary schools, and Mill Creek and Windy Hill middle schools in Calvert County; Leonardtown, Esperanza, Margaret Brent and Spring Ridge middle schools, and Mother Catherine Spalding, King's Christian and STEM academies in St. Mary's County; and St. Peter's, St. Mary's Star of the Sea, and four additional schools in Charles County.
Students will be learning about the links between science, people, resources and communities as they create a global game plan for competition. Each school is receiving one LEGO Mindstorm NXT Robotics System along with a competition kit. Additional support such as mentoring or teacher training will be provided to schools as requested.
RELATED INFORMATION:
LEGO Mindstorm NXT Robotics Systems
http://mindstorms.lego.com/eng/Overview/
Power Puzzle challenge
http://www.firstlegoleague.org/default.aspx?pid=29550