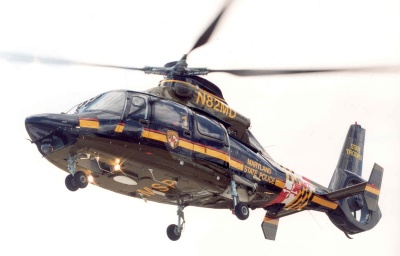 The Maryland State Police helicopter fleet is slowly being reactivated after the fatal crash of Trooper 2 on Sept. 28, which resulted in the grounding of all surviving helicopters. (MSP File Photo)
CENTREVILLE, Md.—The Maryland State Police Aviation Command has resumed helicopter operations at six of its eight sections as of mid afternoon today when the helicopter stationed on the Upper Shore began flying again.
Trooper 6, the State Police helicopter assigned to the Centreville Section, began flying shortly before 3:00 p.m. today. This brings the number of operational State Police Aviation Command sections to six.
At about 4:00 p.m. on Friday, October 17th, flight operations resumed at Trooper 8, based at the Norwood Section in Montgomery County. Prior to that, Trooper 1 at the Baltimore Section, Trooper 5 at the Cumberland Section, Trooper 7 at the St. Marys Section, and Trooper 4 at the Salisbury Section had all returned to flight operations.
Officials at the Aviation Command hope to have all eight sections operational as soon as possible. A seventh section may resume flights by mid-week.
All flights were grounded after Trooper 2 crashed on approach to Andrew's Air Force Base killing four and seriously injuring a fifth. The helicopter had just picked up two auto accident victims and an EMT from the Waldorf area.
RELATED INFORMATION:
State Police Aviation Command Slowly Resumes Flights, Oct. 1, 2008
http://somd.com/news/headlines/2008/8452.shtml
Four Fatalities in State Police Medevac Crash in Prince Georges County, Sept. 28, 2008
http://somd.com/news/headlines/2008/8398.shtml
Source: MSP HQ, Pikesville