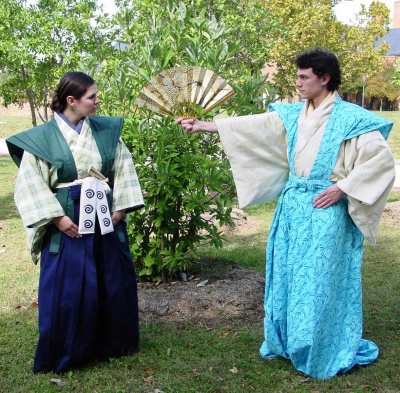 St. Mary's College of Maryland students Judy Sellner and Ian Prince act in traditional costume during Looking for Tarô Kaja, a Japanese kyôgen comedy showing at the college in late October and early November. (Photo: Barbara Woodel/SMCM)
ST. MARY'S CITY, Md. (Oct. 20, 2008)—Looking for Tarô Kaja, four Japanese kyôgen comedies in translation, opens on Thursday, Oct. 23 at 8 p.m. and runs through Sunday, Nov. 2 in the Bruce Davis Theater on the St. Mary's College of Maryland (SMCM) campus. Ticket prices are $4 or $6. To make reservations, call the Theater Box Office at 240-895-4243 or e-mail boxoffice (at) smcm.edu.
Produced by the Department of Theater, Film, and Media Studies and directed by faculty member and Japanese performance specialist Holly A. Blumner, Looking for Tarô Kaja will be performed Oct. 23-25, 30-31, and Nov. 1 at 8 p.m. and Oct. 26 and Nov. 2 at 2 p.m.
The performance on Sunday, Oct. 26, will benefit Prison Performing Arts, a St. Louis-based organization founded by artistic director Agnes Wilcox, who stages Shakespeare's plays with incarcerated men, women, and juveniles in Missouri's penal system. The ticket price for this special performance is $10.00.
While in Japan this summer for a study abroad program, St. Mary's College of Maryland students studied traditional Japanese theater under professional Japanese kyôgen actor Maruishi Yasushi. Over a three-week period, Maruishi taught the neophyte performers certain "kyôgen basics," which often take many years to perfect, like walking, turning, and speaking and singing with particular vocal inflection. He chose Iroha for the students to study and perform in the original Japanese, which they did to great acclaim on a century's old noh stage at the Yasaka Shrine in Kyoto.
"Being able to see actors perform on a traditional noh and kyôgen stage in traditional kyôgen costuming," director Blumner said, "is worth the price of admission alone. The visuals are stunning."
"Kyôgen" literally means "mad words" or "wild, ecstatic speech" and is a traditional form of Japanese comic, or slapstick, performance. It developed alongside the more formal, solemn, and symbolic noh theater. In fact, kyôgen comedies were played as an "intermission" or interlude between each act of the five-act noh play. Its primary goal is to make the audience laugh by highlighting the slapstick antics of performers, their stylized movements, and humorous wordplay.
Four short comedies are included in Looking for Tarô Kaja. Three of them showcase trickster, mischief-maker, and funny-man Tarô Kaja, who outwits and outsmarts his master and others in Catching Plovers (Chidori), The Snail (Kagyû), and The Healing Drink, a kyôgen-style piece written by Japanese performance studies student, Ian Prince, about two servants who try to trick their master and his older sister for drinks of sake. Relationships between an ordinary man and his wife or lover, or between a master and his servant, are the most common themes in kyôgen.
A special feature of the evening is the fourth comedy, Iroha (Learning the Alphabet), performed in the original Japanese by students who studied in Japan as ASIANetwork Freeman Student-Faculty Fellows. Traditionally, Iroha is often taught to child actors as the first play they learn as young students of kyôgen. It is about the 48 syllables of the Japanese alphabet. A general translation of the play, which features the humor of "kakekotoba" (or wordplay), will be provided for the audience.
The four kyôgen comedies in Looking for Tarô Kaja will be staged using a combination of western and classical kyôgen theater conventions, and will be performed on a traditional noh and kyôgen stage, recreated in the Bruce Davis Theater by scenic designer Leon Wiebers and technical director David Groupé. Actors will also perform in recreations of traditional kyôgen costumes, designed by Wiebers and constructed from traditional patterns by his student assistants.